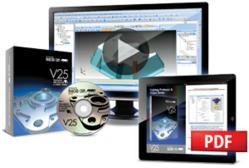 These videos are the most complete and in depth training we have ever released.
Clearwater, FL (PRWEB) July 11, 2012
Manufacturing CAD/CAM software company BobCAD-CAM, Inc. has just released their V25 Training Professor Book & Video Series. The new training package offers a significant amount of training for those seeking to become proficient in design and g-code programming. After having developed major improvements and new toolpath features for machining into their V25 software, the training staff at BobCAD-CAM went to work creating what they now refer to as their most extensive and well laid out training curriculum to date.
"We are very excited about this new training series as it satisfies the users needs in terms of some that might only want CAM and then others that want both CAD and CAM together," said Sean Owen who is the Director of Training & Support at BobCAD-CAM. The new training professor series comes on 10 CD's that contain the digital workbook, a library of pre-designed CAD files that correspond to the workbook tutorials and 127 individual training videos.
"These videos are the most complete and in depth training we have ever released," added Owens.
The workbook tutorials are step by step lessons that guide the customer through the design phase of a part file and then on through the toolpath stages and g-code creation stage of programming parts at all levels of complexity. If the customer wants to focus more on CAM then they can simply open the corresponding CAD file for that lesson and jump to the CAM portion of the tutorial. This allows the customer to train more efficiently and at a pace that works best for each individual customer.
For more information contact BobCAD-CAM at 877-262-2231 or 727-442-3554. Or visit them online at http://www.bobcad.com.