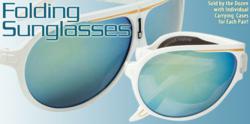 Folding Sunglasses will undoubtedly be one of the hottest styles for 2012
(PRWEB) July 13, 2012
CTS Wholesale Sunglasses LLC has introduced an entirely new line of Folding Sunglasses, making them one of the first wholesale suppliers in the United States to offer these innovative and interesting sunglasses. Manufactured by DE™ Designer Eyewear, the new line of sunglasses reflect the classic Aviator style, which have dominated popular fashion for decades. Having only been available for wholesale less than one month, the new Folding Sunglasses are already reportedly selling faster than anticipated.
Since it's inception a mere four years ago, DE™ Designer Eyewear has proven to be one of the preeminent forces within the fashion sunglasses industry. Reporting record setting sales of designer sunglasses, in the hottest styles year after year. With a shinning reputation for providing the most sought after styles of fashion eyewear, DE™ Designer Eyewear developer Kirk Bachelder is confident that this new line of Folding Sunglasses will be no different. Kirk, who is also CEO of CTS Wholesale Sunglasses is quoted as saying "Folding Sunglasses will undoubtedly be one of the hottest styles for 2012".
Folding Sunglasses are currently available in five individual styles, each of which have a unique Aviator feel. Several of the styles boast mirrored lenses as well as attractive revo lenses, with the most sought after frame colors within each dozen. Another attribute to this new line of fashion eyewear, each pair comes packaged with an individual soft case, with a zipper closure. The soft cases are usable only when the sunglasses have been folded to their final compact size. To illustrate the manner in which these fold, in addition to folding at the temple as a normal pair of sunglasses would, this style also folds inward approximately halfway up from the earpiece, and again at the bridge of the frame. At its final folded size, these sunglasses are approximately the size of one lens, with an added depth of approximately 1.5"–2", comprised of the folded frames.