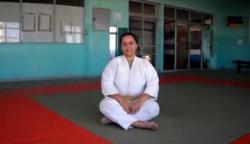 The Olympics are the top celebration of sports. Even though I'm not going as a participating athlete, as a sports person I feel I'm achieving a dream
(PRWEB) July 11, 2012
Kathy Jamisse of Maputo, Mozambique, has been chosen as the third winner of the International Olympic Committee (IOC)'s "Show Your Best" initiative. Jamisse, who demonstrated her ability in judo, has been awarded a trip to the London 2012 Olympic Games, granting her the opportunity to achieve a lifelong wish.
A student who studies sports psychology and practises judo in two-hour training sessions several times a week, Jamisse switched from swimming to martial arts 12 years ago in search of a sport that could teach her a new philosophy of life. Her winning entry was selected from among hundreds of videos submitted by people from over 55 countries worldwide. Among the finalists were entries showing their best efforts in sport, music, art, and charity work.
Asked why she loves the Olympic Games, Jamisse said: "The Olympics are the top celebration of sports. Even though I'm not going as a participating athlete, as a sports person I feel I'm achieving a dream." After the Games, Jamisse hopes to go on to earn a Masters degree and to help raise the level of sport in Mozambique.
The decision was made by the IOC and former and future Olympic athletes, including Charmaine Crooks (Canada), Pernilla Wiberg (Sweden), Fabiana Murer (Brazil) and Yang Yang (China). Submissions were judged on how well the video represented the Olympic values (excellence, friendship and respect); how well it demonstrated the idea of "Showing Your Best"; and how inspiring the video was overall.
The "Show Your Best" campaign is a global video competition aimed at engaging young people in the Olympic Movement and creating the next generation of Olympic fans by encouraging people around the world to demonstrate their personal best. Entrants continue to have the chance to win a number of prizes from Worldwide Olympic Sponsors, such as Swatch Olympic watches, Samsung Galaxy phones and Panasonic Lumix cameras. Users can record, upload and share their talents and skills – whatever they may be – at http://www.olympic.org/showyourbest. The competition continues through to 15 September.
For more information, please contact the IOC Media Relations Team.
###