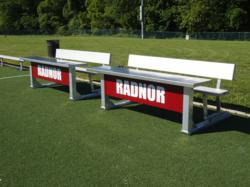 They look professional and really make our fields stand out.
Royersford, PA (PRWEB) July 12, 2012
AAE (Aluminum Athletic Equipment Co.), a leading manufacturer in quality sports equipment, has released its first ever Portable, Unibody Scorer's Table that solves a common problem many athletic programs encounter – the hassle of finding tables and chairs for scorers and the last minute effort to set them up. This mobile, self-contained table and bench unit not only provides a designated area for scorers, but also a sleek and updated look to any athletic field.
"The Unibody Scorer's Table solves our problems with loose tables and chairs," commented Leo Bernabei, Radnor High School Director of Operations. "They look professional and really make our fields stand out. Because they are light weight, we can move them easily for field maintenance."
The first units manufactured were delivered to the Radnor School District in Wayne, PA and are used on multiple sports fields across their campus. The integrated table and sliding attached bench with backrest retains everything scorers need in one place with the added benefit of portability. The scoring center base features a wide rectangular extrusion with radius corners making it "turf-friendly." Aluminum front banners, powder-coated in team colors, are customized to display school name and also function as modesty panels.
"Having our school name in big letters shows the pride we have in our teams," added Bernabei, "and makes it easy for officials to locate sideline score and time keepers."
Other features of the Unibody Scorer's Table include: aluminum plank 12" wide bench and 10" wide backrests; 20" deep scorer's table to accommodate suitable space for writing pads and laptop computers; anodized finish to protect uniforms and clothing; welded 1-1/4" x 2" rectangular aluminum bench supports with a UHMW glide feature; plank ends sealed with aluminum caps and attached to supports with aluminum clips, stainless steel bolts and nuts; seats up to 5 people.
Since inventing and patenting the aluminum rocker hurdle in 1950 for the track marketplace, AAE has introduced a multitude of new products for use by coaches and athletes worldwide. With the use of advanced technology and design innovations, the firm makes over 500 items, including: track hurdles; track starting blocks; discus cages; hammer cages; shot cages; pole vault pits; high jump pits; long jump pits; permanent football goalposts, portable football goal posts, rotating or hinged football goal posts; semi-permanent or portable soccer goals; field hockey goals; lacrosse goals; baseball batting cages; baseball foul poles; ball stopper protective sports netting; portable press boxes; team benches; portable bleachers and Kronum goals. AAE develops, fabricates and assembles most products at its Royersford headquarters and manufacturing location near Philadelphia. For more product information call 800-523-5471 or visit myAAEworld.com.