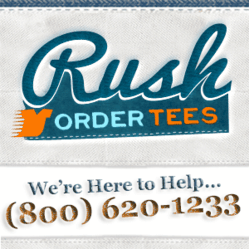 Whether it's on company t shirts or computers, in the current economy businesses and consumers are trying to cut costs and get extra value out of every purchasing decision.
Philadelphia, PA (PRWEB) July 16, 2012
Whether it's on customized tshirts or computers, in the current economy businesses and consumers are trying to cut costs and get extra value out of every purchasing decision. Custom printed t shirts are popular with small businesses because they're an inexpensive alternative to dress shirts or custom embroidered polos. Large organizations use company logo t shirts for client gifts, trade shows and employee appreciation. Of course consumers are also always looking for the best value.
Whether a company or consumer is looking for cheap custom t shirts to meet a business or personal budget, the cost cutting tips outlined below will help them come in under budget with the best value for their dollar.
Cost Cutting Tip #1
Order as many custom shirts as you can use... and then add 5 or 10 more.
Most of a screen printers cost is in the set up and screen creation. Adding quantity stretches out that cost across all the shirts bringing the unit cost down. It's what businesses call incremental revenue and it means the more you add, the more your unit price drops.
If you're a small company, this might not be something you can use. However, reference tip #2...
Cost Cutting Tip #2
Sell the excess shirts that you have.
This works very well for businesses that develop a following - like restaurants, gyms, schools and bars with themes - but it can work with others as well. Individuals will also be able to sell the excess shirts for a side business if they want. Not only can you save money, you can MAKE money.
Cost Cutting Tip #3
Create the design yourself.
Some of the costs of customized shirts are actually due to the cost of hiring a graphic design firm. If you have the skills to create a shirt design on your own or online, that will help. Otherwise, deal with a shirt printer that has in-house graphic designers.
"Having a full graphic design team in house empowers us and our customers with free design assistance and optimization" explained Ron Reed, VP, Marketing & eCommerce. " These services and more are genuine value-adding points to both our B2B and B2C customers"
Cost Cutting Tip #4
Cut out the middleman.
Something that most people don't consider when they are looking for a company to print their custom t-shirts is how the company makes the shirts or if they company is just a middleman. Savvy consumers want to find a company that does all of the work in house. In the majority of cases, the companies that print at their own facility are cheaper and even get better shipping rates from major shippers.
"Thanks to our volume we can offer free standard shipping via our shipping partner, UPS" noted Mathew Price, Operations Manager. "With our 20,000 SF production facility, full time expert printers, designers and more, we can easily handle everything in-house to control quality, costs, and speed."
Contact Rush Order Tees at 1 (800) 620-1233
--
About Rush Order Tees | a Printfly Company
Rush Order Tees brand was launched by Printfly to address the time sensitive needs of custom t-shirt buyers. Since then, the Rush Order Tees brand has grown to be a major leader in the custom shirt printing industry both for rush and non-rush needs.
Since it's founding in 2002, Rush Order Tees has expanded its product offering to include a wide variety of commercial, academic and consumer focused offerings including company polos, custom business shirts, custom team jerseys, custom printed hats, custom printed sweats, custom college shirts, custom team jerseys, and more.
From 10 years of consistent growth, Rush Order Tees has officially outgrown its 20,000 SF facility in Philadelphia Over twenty of high-end custom printing equipment will be relocated to a larger facility later this year.
Through the years, Rush Order Tees has developed a reputation for excellent service, value and quality with overwhelmingly positive online reviews across the leading sites including Google, Superpages, Yellow Pages, Yelp, Facebook and the Better Business Bureau where the Company holds an A+ Accredited Consumer Rating.