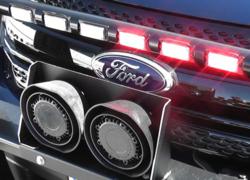 D & R Electronics is the first company in Canada to offer airbag compliant mobile data solutions for Ford Explorer and Taurus upfits.
Bolton, Ontario (PRWEB) July 12, 2012
D & R Electronics has become the first company in Canada to offer airbag compliant mobile data solutions for police upfits for Ford's new Taurus sedan and Explorer SUV interceptor vehicle platforms. Unveiling both new generation Ford police vehicles at Sunset International Speedway in Innisfil, Ontario, D & R showcased its achievement by offering high speed test drives on the OSCAAR sanctioned third mile track to officials and officers from the South Simcoe, Peel Region and Niagara Police services. News crews from local and national media including TSN, CTV and Rogers, as well as dignitaries from Ford, Panasonic and TLS Fleet Management were also on hand to take part in this well-attended special event.
Filling the void left by Ford's retirement of the Crown Victoria – which was the police cruiser of choice for hundreds of North American law enforcement agencies for over two decades – the new generation interceptors are more nimble and fuel efficient than legacy vehicles like the Crown Vic and the Chevrolet Caprice. But they are also smaller with significantly less cabin room. Combined with the growing demand for on-board hardware, video and IT, this presents a special challenge to upfitters like D & R. Adding tablets and laptops as well as in-vehicle video to traditional components like consoles, light and siren controls, armatures and racking, makes ergonomics extremely challenging. One of the few companies up to the task, D & R is able to do more with less space for officers who tend to be physically larger than they were 20 or 30 years ago.
"What we do is not something you can not learn overnight or find in a manual." explains D & R Vice President Alfredo Darolfi "We mastered the art and science over time by upfitting many Dodge Chargers with Playbooks, with our Odyssey programmable message boards and with interior video systems. Having worked closely with police services like South Simcoe for over 35 years makes us the unique in North America, if not the world."
Although the new police interceptors from Ford and Chrysler may be smaller, lighter and more fuel efficient, by no means are they diminished in terms of their performance. Because of major advances in automotive design and materials, they put out more horsepower per pound, accelerate faster, and handle better than the 'old iron.' They are also safer due to additional airbags. While standard features like all-wheel drive and multiple airbags improve handling and safety, like smaller passenger compartments they also add challenges for upfitters like D & R.
"With more airbags in a smaller passenger compartment, the last thing anyone wants is obstructions to elbow room or worse, a tablet or laptop acting as a projectile in case of airbag deployment." Says South Simcoe Constable Dave Phillips. "That's why we're so appreciative that every D & R upfit meets and exceeds airbag compliance standards. It's a huge investment on their part, but we're sure it will pay dividends, since officer safety is key for us, and for every law enforcement agency that is switching over to the new smaller interceptors."
D & R currently has new Ford and Chrysler police demo vehicles available for test drives by clients across Canada and the US. As a result of the interest garnered by the event at Sunset Speedway, over half a dozen new orders have already been placed, and demo drive dates are quickly being filled. The newly upfitted Explorers, Tauruses and Chargers will also be available for viewing at upcoming trade shows.
For more information, trade show dates or to book your demo drive, please contact us or visit our web site.
###
Paul Grierson – Sales Manager
Toll-Free: 1-800-538-7338
Tel: 905-951-1940 ext.
Mobile: 416-433-1130
Email: pgrierson(at)dandrelectronics(dot)com
D & R Electronics is a privately held company based in Bolton, Ontario. Specializing in police, EMS, utility and municipal vehicle upfits since 1976, D&R Electronics defines the leading edge in emergency lighting systems, sirens, flashers, storage and mobile IT. Our focus on, and reputation for superior quality, is demonstrated in every aspect of design, manufacture and customer service.