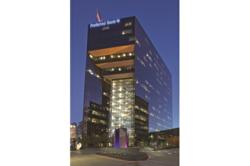 Houston, Texas (PRWEB) July 13, 2012
Amstar today announced the purchase of Kirkwood Tower III, a 286,000-square-foot Class "A" office building located at 11757 Katy Freeway in the Energy Corridor submarket of Houston. The purchase price was not disclosed. Amstar acquired the property in partnership with Frontier Equity and expects to immediately commence an institutional leasing campaign augmented with a strategic capital improvement plan. Kevin Brands led the investment team from Frontier Equity.
Developed in 1984, Kirkwood fronts along the access road of I-10 (Katy Freeway) which provides direct access to the Sam Houston Tollway (Beltway 8) and Interstate Loop 610 to the east as well as State Highway 6 and the Grand Parkway to the west. The widening of I-10 to 24 total lanes has decreased commute times to Houston's business centers and enhanced Kirkwood's access with the relocation of on/off ramps.
The Energy Corridor submarket sits between the established Memorial Villages neighborhood and the high-growth communities of west Houston. Given its location and a thriving Houston economy, the Energy Corridor continues to perform very well relative to other Houston submarkets: job formation, office occupancy and average rents have been increasing of late.
"Led by the U.S. headquarters of ConocoPhillips, Shell, BP, and numerous oil and gas service companies, we expect this submarket to experience increasing demand for office space," said Amstar Chief Operating Officer Doug Wiley. "We were excited to have this opportunity to invest with Kevin and his team and look forward to implementing our leasing and capital strategies seeking to elevate this property to the top of its competitive set."
Holiday Fenoglio Fowler assisted Frontier Equity in the equity raise for this acquisition. PM Realty Group will lease the property.
About Amstar
Amstar Advisers, LLC is a global investment manager focused on creating value for its clients through the implementation of sound real estate-related investment strategies. The firm is an affiliate of, and is commonly managed by, Amstar Group, LLC, a real estate asset manager with over 25 years of experience in acquisition, development, and capitalization of office, hotel, multifamily, industrial, and retail properties within the major markets of the United States and select markets in Europe and Latin America.
Together, Amstar Advisers, LLC and Amstar Group, LLC (collectively referred to as "Amstar") have approximately $1.9 billion in assets under management. Amstar's core investment strength lies in maintaining disciplined and diligent underwriting while decisively taking advantage of opportunities in a rapidly changing investment environment. Amstar Advisers, LLC has approximately $854 million in assets under management. For more information on Amstar, go to http://www.amstar.com or contact Amstar Managing Director Rob Toomey at rob.toomey(at)amstar(dot)com.