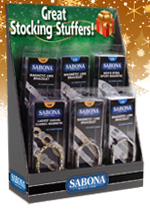 Sikeston, MO (PRWEB) July 24, 2012
Sabona of London, the premier manufacturer and marketer of copper and magnetic jewelry, is now offering an in-store retail display as part of their marketing support program for retail partners. Sabona's POS Christmas display holds 12 pieces of Sabona Magnetic Bracelets in the most popular styles! These Sabona bracelets make great stocking stuffers and with eye catching graphics, this display will grab customer's attention!
Lightweight and visually appealing, Sabona's standard 12-piece Display is a highly functional universal display for a retail sales countertop. The Christmas promotion display features a user-friendly, interchangeable graphic, allowing retail partners to use the same display year-round, yet highlight Christmas during the appropriate sales period.
This assortment of bracelets features stainless steel, gold plating, and 1200 gauss samarium cobalt magnets, and all retail for $19.99!
For more information on this display or any of Sabona's products, call 800-497-4199 or email info(at)sabona(dot)com.
About Sabona of London Unlimited, Inc:
Sabona of London, Inc., established in 1959, has a long history as the premier manufacturer and marketer of copper and magnetic jewelry worldwide! The expanded Sabona product line includes Copper Magnetic Bracelets and Stainless Steel Magnetic Bracelets as well as Pro Magnetic Sport silicone wristbands and Sabona Athletic Bracelets, a line of fabric magnetic bracelets. In addition to magnetic bracelets, Sabona offers Copper Thread Supports, a line of supports for the knee, ankle, elbow, etc. that feature 5% copper thread in the fabric.