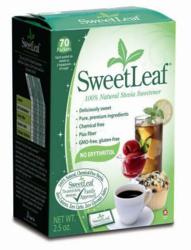 Gilbert, AZ (PRWEB) July 11, 2012
SweetLeaf Stevia® Sweetener, the natural sugar alternative known and loved even for what it doesn't have – calories or carbohydrates – beat out the competition for what it does offer better than other stevia sweeteners: delicious sweet taste.
SweetLeaf surpassed the competition to win two World Stevia Organisation 2012 Best Stevia Product/Extract of the Year awards in Paris this summer. The WSO's tasting committee and jury members awarded World's Best Tasting Stevia Awards to SweetLeaf Natural Stevia Sweetener in the Extract category and SweetLeaf® Liquid Stevia Sweet Drops™ Chocolate in the Consumer Product Made with Stevia category.
"We're extremely honored to win the prestigious Stevia Taste Awards from the World Stevia Organisation," said James May, Founder and CEO of Wisdom Natural Brands®, the parent company of SweetLeaf. "These awards assure consumers that SweetLeaf products have been tested and approved by a totally independent jury, which is direct evidence of the quality of our products."
Products were judged on sensory analysis, such as the general taste, aroma, appearance, flavor and mouth feel, in addition to clear ingredient listings, packaging, ease of preparation and directions for use. In addition to being a healthier alternative to both sugar and artificial sweeteners, versatile SweetLeaf is the only stevia sweetener that continues to win taste awards. Zero-calorie, zero-carbohydrate SweetLeaf was the 2010-2011 Global Stevia Products Award winner and those products have been given other awards from Vegetarian TImes and Clean Eating Magazines. Chocolate Sweet Drops were awarded a 93 out of 100 possible points as a winning product for "intense, versatile taste that goes a long way with just a drop or two" by food trends editor, Today Show correspondent, and "supermarket guru" Phil Lempert.
The non-profit WSO was formed in Paris, France to promote stevia as a sustainable and natural sweetener to counter the pandemics of obesity and diabetes sweeping the Western world. SweetLeaf's James May has been active for more than 30 years in championing stevia to governmental and commercial interests around the world.
For more information about SweetLeaf, or to schedule an interview with the "Father of Stevia," James May, please call the contacts listed at the bottom of this release.
About Wisdom Natural Brands®
Gilbert, Arizona-based Wisdom Natural Brands® is the parent company of two highly respected consumer brands: SweetLeaf Stevia® Sweetener and Wisdom of the Ancients® herbal teas. SweetLeaf® is the only all-natural stevia sweetener with zero calories, zero carbohydrates and zero glycemic index. Its "green" processing procedure uses cool, purified water and high-grade stevia leaves. The sweetener was recognized as the 2010-2011 Global Stevia Products Award Winner for taste, technology and sustainability by the International Society of Antioxidants in Nutrition and Health. SweetLeaf is sold in boxes containing 35 or 70 packets, as well as in SweetLeaf Stevia Plus® Shaker Bottles for easy home use and SweetLeaf SteviaTabs™ Dissolvable Tablets for on-the-go use. SugarLeaf™, also by Wisdom, bonds SweetLeaf with cane sugar for a low-calorie sugar alternative perfect for baking and cooking. SweetLeaf® Liquid Stevia drops add flavor without calories or carbohydrates to water or favorite foods and beverages. For more information about SweetLeaf products, recipes and more, visit http://www.sweetleaf.com
SweetLeaf products can be purchased online at http://www.buywisdom.com or at grocery and health food stores throughout the U.S. and Canada.
MEDIA CONTACTS:
Diego Romero
McFadden/Gavender
O: (520) 882-6262
M: (520) 401-1693
diego(at)mcfaddengavender(dot)com
Karen Gavender
McFadden/Gavender
O: (520) 882-6262
M: (520) 603-4200
karen(at)mcfaddengavender(dot)com
Website:
http://www.sweetleaf.com
# # #