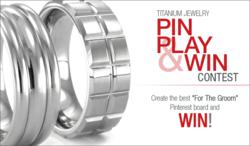 Create a Pin Board For The Groom
Modesto, California (PRWEB) July 13, 2012
Titanium-Jewelry.com, a premier online retailer of men's jewelry, titanium rings, and mens tungsten wedding bands, is proud to announce a contest on Pinterest. "Pin, Play,& Win!" is a contest to create a board on the Titanium-Jewelry.com Pinterest account, Ashton Yates, Social Media Director at Titanium-Jewelry.com expresses her enthusiasm about this contest, "We are really excited about the "Pin, Play & Win" Pinterest contest. So many people are on Pinterest creating wedding boards as it is, so why not get rewarded for it? I am really hoping people will let their creativity shine while making their "For the Groom" boards unique and reflect their own individual style."
The "Pin, Play, & Win!" Pinterest contest will be accepting submissions until Sunday July 22nd 2012, after that begins the voting. There will be eliminations every third day on, July 25th, July 28th, and July 31st. The finalist will be announced on August 3, 2012. To enter visit the Titanium-Jewelry Pinterest board and click the "Follow All" button. Create a board called "For the Groom: and fill it with at least 10 pins that fit this theme. Be sure to include at least 4 product images from Titanium-Jewelry.com and the "Pin, Play, & Win!" graphic. Visit the Titanium Jewelry facebook page for more details on rules.
Suggestions for pin boards are to include mens wedding bands, mens wedding day accessories, mens tungsten jewelry, and groomsmen gifts. The top board wins a $250 gift certificate, 4 runners-up win a $50 gift certificate and all participants will receive a 20% off coupon code from Titanium-Jewelry.com.
In business for more than 20 years, Titanium-Jewelry.com has a reputation for carrying beautiful, award winning wedding bands and jewelry that is perfect for men and women looking for both contemporary and classic design. Titanium-Jewelry.com specializes in mens titanium rings, tungsten rings and cobalt rings combined with the precious metals and diamonds. This company focuses on offering the latest and most unique designs and world class customer service. Not only is Titanium-Jewlery.com an online jewelry retailer but their parent company has a physical jewelry store located in Modesto, CA .
About Titanium-Jewelry.com
Titanium-Jewelry.com offers sophisticated designs from ArtCarved, Benchmark, COGE, Diana Classic, Edward Mirell, Heavy Stone Rings, J.R. Yates, Triton and the Belloria Black Diamond collection for her. Enticing grooms and couples worldwide, the online retailer provides a multitude of styles and metals representing the best selection of palladium rings, mens titanium rings, tungsten rings, and men's wedding bands for the fashion forward male and female.
Experts in modern men's wedding rings and modern metals jewelry, Titanium-Jewelry.com leads the industry in contemporary jewelry fashions. For more information, please visit http://www.Titanium-Jewelry.com.
# # #