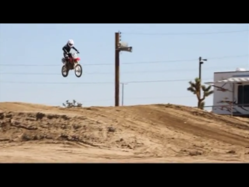 "Participating in the Natural High contest has shown me how to go through life living naturally high."
(PRWEB) July 13, 2012
Luke Chamberlain, 13-year-old from Medford, Oregon, gets "high" from motocross. With her love of pencil sketching, 12-year-old Josie DeRosa says her natural high makes people understand her better. Whether running in the mountains or on a road, 17-year-old Alexia Griffith gets her high at the starting line. Aside from being exceptionally motivated and passionate, these young people have something else in common - they've all won 1st place awards in the 2012 Natural High Contest. Across three categories: video, poster art, and writing, these dedicated youth show us the joys of pursuing their passions. Natural High is a 501-c3 nonprofit organization whose purpose is to help youth discover, amplify, and pursue their natural high so that they have a reason to say no to an artificial high.
We are thrilled by all of the exceptional contest entries, and all the young people who shared their natural highs. Elise Odom's natural high is volunteering and running. She plans to use her award to attend a Cross Country invitational meet in Las Vegas with her team. Elise told us, "It's always a lot of fun, running with people who enjoy it as much as you!" Read Elise's writing entry. Kalysa To, winner of the middle school writing award, says her family is her natural high! Kalysa said, "I want to seriously inform others that living naturally high is the best way to live. Once they experience the thrill of their own personal natural high, they probably won't want to ever forget that feeling."
More than 100 contestants, from 17 states across the country showcased their natural high for a shot at winning a $250 1st place award to put towards furthering their natural high or the Grand Prize of a $450 award and a Go-Pro Camera!
Eric Barrios, soon-to-be senior at Rancho Buena Vista High School in Vista, Calif., took home the Grand Prize after showcasing his talent of 'dancing from the soul'. Eric said, "I really wanted to show my passion and show that I can be happy without the use of synthetic drugs, and hopefully inspire other people to do the same." Barrios has been dancing since he was 3-years-old after begging his Mom to put him in dance class. As a contest winner, Barrios can now send himself to class! "I'm planning on using the money on a music boom box I've always wanted so I can make dance videos with the Go Pro camera; I also want to spend it on dance workshops."
Sponsored by Natural High®, Producers of NATRUALHIGH.TV and the educational Natural High® DVD Series, the national contest asked young people to express their natural high via video, poster art, or essay. Each entry highlighted how using drugs and alcohol would keep them from pursuing their natural high to its fullest. A natural high is an activity, art form, or sport that one loves to do, makes them feel good inside, and does not involve drugs and alcohol. The contest was promoted in schools, on naturalhigh.org, and social media platforms such as Facebook and Twitter. "Participating in the Natural High contest has shown me how to go through life living naturally high," says Luke Chamberlain winner of the middle school video category. Chamberlain went on to say, "It has impacted the people that I know because when they saw me living naturally high it kind of made them want to also."
Natural High is committed to changing lives. A national nonprofit organization based in San Diego, we rely on private contributions to support our programs. To view all of the winning entries and to learn more about supporting Natural High® visit http://www.naturalhigh.org