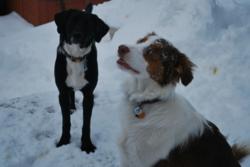 Our kids (dogs) have taught us about unconditional love and remind us daily there is always enough puppy love to share.
Philadelphia, Pennsylvania (PRWEB) July 30, 2012
CoolDog-Gear, a locally owned online dog gear company, is a strong believer and participant in dog rescue. The company encourages customers to consider fostering dogs through their local rescues until a forever home can be found. In fact, CoolDog-Gear's company mascot, Cool Dog Chase, is actually their real family dog who has acted as a "big brother" to many foster puppies over the years, especially to Tuddie. Tuddie is the office "foster failure." After being fostered, Tuddie went to a new home only to be returned the next day. When she came back to Chase's house, it was like she said "hey - thanks for the sleepover. I'm HOME!"
CoolDog-Gear puts their commitment to generosity to work in other ways, too. In October, the CoolDog team will be at the Philadelphia International Dragon Boat Festivals. A T-shirt has already been made and is available on CoolDog-Gear.com. Keeping with the company's generous spirit, $5 of each T-shirt purchased will be donated to breast cancer research. CoolDog-Gear will also be a vendor at the Peekskill New York Dragon Boat races in August and the Mercer County NJ Dragon Boat Festival in September.
The company goes above and beyond when it comes to generosity. CoolDog-Gear offers local rescues discounted merchandise rates. Dog rescues also have the opportunity to have their followers write in the name of rescue group they are affiliated with when buying from CoolDog-Gear, and 5% of the proceeds will go directly to the rescue. To get started, rescues can send their rescue name, description of the organization, contact person, address and telephone number to CoolDogGear(at)aol(dot)com. 501C paperwork should also be included.
One of the things that sets CoolDog-Gear apart is the enthusiasm the employees have for what they do. They are never content to simply sell quality dog gear. They are mindful of the dog lovers community and needy dogs, and regularly foster dogs from kill shelters. "Our kids (dogs) have taught us about unconditional love and remind us daily there is always enough puppy love to share," the employees say. "Together, with our dogs in hand, we have walked and wagged tails in order to raise money for numerous organizations in our community. We have visited folks recovering in rehabilitation hospitals, bringing back memories and smiles along the way. It's hard to believe that our angels were all unwanted rescue dogs."
Don't let the company's generous nature distract you; CoolDog-Gear still sells some of the snazziest dog accessories around. Some best sellers include Himalayan dog chews, Wacky Walker leashes and licensed sportswear for dogs. The company offers a wide variety of dog accessories, including novelty products like car magnets and Christmas ornaments, and also must-haves like bedding, bowls and leashes. For more on CoolDog-Gear giving programs or any of their unique dog gear and puppy supplies, visit http://www.CoolDog-Gear.com. Support your local dog rescue and get great gear at the same time!