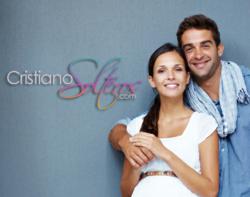 Latin Christians from all over the world connect and establish a real long-term relationships.
Torrance, CA (PRWEB) July 13, 2012
In an effort to provide Latin Christians with a contemporary dating experience, Christian Singles Commitments Corp. has redesigned its 11-year-old site for Latin singles CristianoSolteros.com with brand new software. Launched on July 2, the site now boasts a modern interface, state-of-the-art widgets and more user-friendly features.
According to company representatives, CristianoSolteros.com's innovative features make it easier for Latin and Spanish-speaking Christian singles to connect with others around the globe.
"Latin Christians make up a significant portion of the online dating market, and we wanted to offer this powerful niche the same type of technologically superior tools offered by the big secular dating sites," said company representative Maggie Danhieux. "Thanks to a fresh, simple-to-use interface and sophisticated toolset, CristianoSolteros.com makes it incredibly easy for Latin Christians from all over the world to connect and establish real, long-term relationships."
Established in 2001, CristianoSolteros.com now features a variety of intuitive, up-to-the-minute features. The site's search feature makes it possible for Christians to search for members with specific traits from all over the world. By using the match feature, members can receive emails containing links to profiles that match their specific criteria. Members can locate others online at the same time and quickly connect using the site's instant chat feature. CristianoSolteros.com also offers features like e-Cards and unlimited photo posting.
About Christian Singles Commitments Corp.
Part of a leading Christian dating network established in 1997, Christian Singles Commitments Corp is unique in its approach: all of its members are committed to seeking out long-term, faithful relationships. Unlike most dating sites, dating services within the network do not allow casual dating. The sites of this Christian online dating community have gained great popularity and are frequented by Christians from all over the world. An approved member of the BBB online Reliability Program, Christian Singles Commitments Corp is committed to providing safe and secure online dating.
Christians Networking
23133 Hawthorne Blvd, Suite 110
Torrance CA 90505
Tel: (877) 587-4448