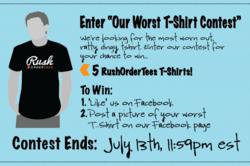 This contest is a fun way for our customers to interact with our company and get free shirts in the process.
Philadelphia, PA (PRWEB) July 12, 2012
On Monday, Rush Order Tees launched a contest, asking their customers to post their "worst t-shirts" on the Company's Facebook page at http://www.facebook.com/rushordertees. The winner will receive 5 free Rush Order Tees logo t-shirts. The custom t-shirt maker was seeking new ways to get their customers engaged with their social networking outlets. Rush Order Tees is a customer driven business and jumped at the opportunity to interact with their customers in a different way.
"With this contest we hope to see another side of our customers and hope that they get to see a different side of us. This contest is a fun way for our customers to interact with our company and get free shirts in the process. We hope to have more contests that will allow for further engagement." says, Ron Reed, VP of Marketing and E-Commerce.
Customers are asked to 'like' the custom t shirt maker and then post a picture of their t-shirt on the page. Each shirt will be voted on by employees at Rush Order Tees and the winner will contacted via Facebook when they are selected.
Learn more about the contest and how to win 5 free Rush Order Tees t-shirts on the company's facebook page at:
http://www.facebook.com/rushordertees
About Rush Order Tees
Rush Order Tees is one of the leading screen printing and online t-shirt design studios in the custom t-shirt screen printing and embroidery industry. Their goal is to provide exceptional t-shirt printing services to customers of all sizes.
In 2002, Printfly customized tees, launched their new brand, Rush Order Rees. Rush Order Tee specializes in rush deliveries and expanded their products beyond custom printed shirts to include sports, academic, industrial and business offerings including company polos, custom business shirts, custom team jerseys, custom printed hats, custom printed sweats, custom college shirts, school jerseys, custom totes, custom aprons, and more.
Both of these eCommerce companies are built off of repeat customers and referrals from satisfied customers. These customers and the increasing interest from others have resulted in Printfly and Rush Order Tees being one of the major leaders in the custom shirt printing industry.
As Rush Order Tees began to grow, they acquired a 15,000 SF facility in North East Philadelphia, PA. This facility is equipped with over 20 of the highest quality screen printers, digital printers, screen exposure units, screen printing heaters, and much more. Printfly and Rush Order Tees will continue to expand and serve the entire United States and Canada with their policy of standard free shipping through UPS. Rush Order Tees also currently offers customizable shipping options which will soon be extended to Printfly.
As both companies are growing, they are developing a reputation of excellent service, value and quality.
Rush Order Tees and Printfly have both received tremendous positive online reviews and ratings across the leading sites including Google, Superpages, Yellow Pages, and the Better Business Bureau where they hold a certified A+ Accredited Rating.