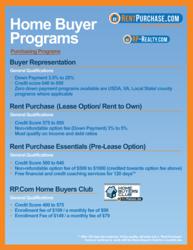 Our customer management system allows our realtor partners to make more sales while we manage their back office client services for the Lease option/ Lease Purchase/ Rent to own home sale.
Charlotte, North Carolina (PRWEB) July 12, 2012
In the past 60 days, RentPurchase.Com has added multiple business partners in Greater Atlanta and Augusta Georgia. The residential real estate industry continues to demonstrate challenges in providing residential mortgages to quality home buyers which are resulting in a lack of sales for property owners.
The RentPurchase.Com customer management solution to the Lease Option/ Lease Purchase/ Rent to Own home purchase creates a consistent and reliable purchase method that benefits both sides of the realty transaction and the real estate professional that utilizes the system.
RentPurchase.Com was founded in 2009 and continues corporate operations in the greater Charlotte, North Carolina Area. Working through multiple outlets throughout the country, RentPurchase.Com offers a dedicated realty process, follow up and management of home buyers and home sellers for the realty professional. Our bundled service approach; home qualifying, home selection, home purchase, rent collection, home warranty administration, contents insurance administration, home buyer credit/ financial coaching, lending and closing coordination is the first and only system in the residential realty industry today that practices all services in one arena.
Once a home buyer enters the system RentPurchase.Com takes lead on the management of the home buyer until closing. During the lease tenure RentPurchase.Com communicates with the home buyer during the months and updates our business partners on the progress towards obtaining mortgage approval.
Our system allows our business partner(s)/ Realtor(s) the ability to help more customers while we maintain the client's needs.
Interested parties may contact us about our services at 704-494-7500, Option 1. Fax number is 704-494-7526, 600 Town Centre Blvd, 401, Pineville, NC 28134.
Richard Schwartz, CEO