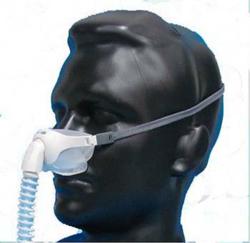 Houston, Texas (PRWEB) July 12, 2012
Sleep Restfully, Inc. is proud to announce that they will be carrying the Pilairo Nasal Pillow System by Fisher and Paykel. This affordable nasal pillow system is a revolution for a number of reasons. Drawing inspirations from aerodynamics and mobility, Fisher & Paykel revolutionized the market with their very light weight, affordable and very convenient nasal pillow system that features a self-inflating AirPillow. The Pilairo's aerodynamic and mobile design was not just for appearance, the Pilairo functions the way it looks.
The Pilairo Nasal Pillow System comes in one size only, which fits most sleep therapy users. Due to the one size only, the complicated adjustment to headgear is no longer a concern. It is a very simple nasal pillow system that has very few parts clean and handle. The Pilairo is the lightest nasal pillow mask is the lightest Fisher & Paykel mask yet, with a weight of 1.83 ounces.
The self-inflating AirPillow is perhaps the most unique feature of the Pilairo nasal pillow system. The pillow automatically inflates itself with the air flow and fits perfectly into place. The AirPillow seals itself perfectly into place provides a comfortable fit. Combining the light weight, decrease in headgear, and the AirPillow, the idea in mind was to provide complete mobility and comfort for the user with a trustworthy seal for stability.
Sleep Restfully, Inc. places customer service and satisfaction as its highest priority to sleep therapy and oxygen customers. Sleep Restfully, Inc. believes that they are second to none in customer service, which is reflected in their decades of experience and their Better Business rating of "A". Sleep Restfully carries a complete line of sleep therapy supplies and equipment from the best manufacturers in the industry, such as Resmed, Philips Respironics, Fisher & Paykel, and others. In addition to CPAP machines and supplies, Sleep Restfully specializes and carries portable oxygen concentrators. Sleep Restfully offers the best support and prices on portable oxygen concentrators such as the Respironics SimplyGo, Respironics EverGo, Sequel Eclipse 3, Inogen G2, Invacare XPO2, and more. Stationary oxygen concentrators are also carried, such as the Respironics EverFlo and Invacare Perfecto.
Sleep Restfully stocks all replacement parts for CPAP machines, CPAP masks, and portable oxygen concentrators.
Contact Sleep Restfully, Inc. today toll free at (866) 923-2727 or by visiting http://www.sleeprestfully.com.