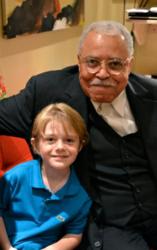 New York, NY (PRWEB) July 11, 2012
On July 11, TheaterMania reported that child actor Max Page met with Tony Award winner James Earl Jones backstage at Gore Vidal's "The Best Man" at the Gerald R. Schoenfeld Theatre.
Page, who played "Little Darth Vader" in a recent Volkswagen commercial, asked Jones (who voiced the role of Darth Vader in the "Star Wars" films) about his career and the two talked shop about theater, film and voiceovers.
Page, who recently underwent heart surgery, is also known to TV viewers for his role as Reed on CBS' "The Young and the Restless".
For more up-to-the-minute theater news, show listings, video, features, reviews of Broadway Shows and tickets visit TheaterMania.com.
About TheaterMania.com, Inc.
TheaterMania.com is the information and ticketing source for over 5,000 shows nationwide. For over ten years, TheaterMania.com has connected the theater community to the public as the leading online resource for consumers to find shows, get tickets, and save money to theater nationwide. TheaterMania.com publishes comprehensive show listings, provides discount Broadway tickets, editorial content, and video coverage for over 40 markets and widely distributes free email newsletters and special offers to over 675,000 registered subscribers. In addition, TheaterMania.com creates online marketing programs for performing arts organizations, and provides technology to power ticketing, fundraising, and CRM through its proprietary software, OvationTix.