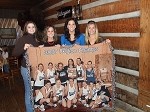 A personalized sports photo blanket captures the hard work, dedication and friendship inherent in youth sports.
Conway, SC (PRWEB) July 13, 2012
The Memories Place, a company that specializes in customized gifts, invites families to celebrate the summer sports season with a personalized sports photo blanket for any young athlete.
Each woven sports blanket is available in four sizes: standard, large, extra large and mega. Customers can choose from a variety of sports-themed designs, including basketball, soccer, baseball, bowling and golf. They can also opt to use a team photo or include text on the photo blanket at no extra charge.
"For kids participating in youth sports, the thrill of competition and the important bond between teammates can create powerful memories that remain strong far into adulthood," said John Lercari, owner of The Memories Place. "A personalized sports photo blanket that captures the hard work, dedication and friendship inherent in youth sports can be a great gift for a child who wants to remember the accomplishments—and the fun—that come with being part of a team."
The Memories Place works with only the finest manufacturers when it comes to producing its top-quality photo blankets. Satisfied customers have submitted glowing reviews of the company's products, praising the outstanding quality of craftsmanship of its photo throws, glassware, canvas prints, wall art and other unique gift items. Reviewers also enjoy the level of customization available for each product.
"The ability to personalize our photo blankets and other items is what makes a gift from The Memories Place so special, especially when celebrating the determination of young athletes," said Lercari. "By uploading a great team photo and adding text that pays tribute to a national championship or even a personal record, a customized sports photo throw will remain a prized possession of that athlete for years to come."
Sports photo blankets start at $79.95, with free shipping on orders exceeding $75. The Memories Place also offers a 100% guarantee, which gives buyers who are unsatisfied with their purchase the opportunity to receive a full refund. The Memories Place accepts all major credit cards and PayPal, and is a ShopWiki-approved store.
To browse the company's selection of sports photo throws and other custom gifts, visit http://www.thememoriesplace.com.