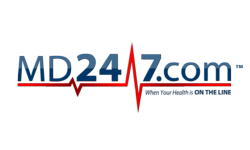 MD247 sponsors iMedicalApps
Tampa, FL (PRWEB) July 11, 2012
The telemedicine provider MD247 announced its ongoing support and sponsorship of the iMedicalApps website, which can be located online at http://www.imedicalapps.com. The sponsorship of the website has been a "work in progress" for the MD247 Marketing Team, but came to fruition with the placement of banner advertisements on July 11, 2012.
The MD247 Marketing Team would like to see the sponsorship of the iMedicalApps website lead to open discussing regarding the use of mobile medical technology in the practice of medicine.
iMedicalApps is the leading online publication for medical professionals, patients, and analysts interested in mobile medical technology and health care apps. The iMedicalApps physician editors lead a team of physicians, allied health professionals, medical trainees, and mHealth analysts in providing reviews, research, and commentary of mobile medical technology. The iMedicalApps publication is heavily based on our own experiences in the hospital and clinic setting.
Largo Florida based MD247.COM (MD247; MD/247; MD 247; M.D.247; MD-247) provides an affordable telemedicine supplement to existing healthcare services. MD247.COM telemedicine program members have unlimited telephone access to a nationwide medical support team, all with just a single phone call to the MD247.COM telemedicine Talk to a Tampa Doctor/Talk to a Tampa Nurse hotline. MD247.COM has a virtual platoon of registered nurses; board certified physicians and a support staff available to members for all non-emergency situations. More information about MD247.COM is available online at http://www.md247.com.