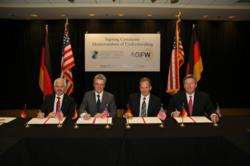 Chicago, IL (PRWEB) July 11, 2012
District energy industry associations International District Energy Association (IDEA) and AGFW (the German Energy Efficiency Association for District Heating, Cooling and Combined Heat and Power) announce the signing of a Memorandum of Understanding (MOU) that calls for greater organizational collaboration and cross-border exchange on industry policy issues and technical best practices. The agreement was signed at the 103rd Annual Conference of IDEA in Chicago on June 29, 2012 by Werner Lutsch, CEO & Managing Director, AGFW; Wolf-Dietrich Kunze, Member of the Board, AGFW; Vincent Badali, Chairman of the Board, IDEA; and Robert Thornton, President & CEO, IDEA.
According to IDEA President & CEO Robert Thornton, "Germany is a well-known international leader in renewable energy and is adopting very favorable policies for district energy and combined heat and power (CHP) as a preferred approach to replace shuttered nuclear capacity with cleaner, more efficient and cost-effective resources. Germany's successful deployment of local energy solutions can be instructive to U.S. regulators and policymakers dealing with similar capacity replacement challenges as the U.S. prepares for large portions of an aging central power generation fleet to come offline. Policy issues that affect our industry are often cross-border and it can be very instructive to consider best practices from our international partners. We look forward to an active dialogue and collaboration with our colleagues at AGFW."
Werner Lutsch, CEO & Managing Director of AGFW stated, "This MOU reflects our combined commitment to raise the awareness among our government leaders on the practical, economic and environmental advantages of district energy systems. AGFW is pleased to collaborate with IDEA, a 103-year old association, as we are both actively engaged in education, advocacy, promotion and training in the fields of district heating, district cooling and CHP to support a shared objective of advancing a growing industry. Both organizations are committed to the wider deployment of safe and reliable district energy systems as a means to increase energy efficiency, reduce harmful emissions and strengthen local economies through utilization of local, low-carbon and renewable energy sources."
The MOU affirms the intent of both parties to pursue a mutually beneficial approach to educate and inform federal, state and local government officials on the economic, environmental and energy-efficiency advantages of district energy in order to facilitate adoption of policies favorable to the district energy and CHP industries. The organizations will also seek to jointly develop and promote standardized global technical guidelines and operational business best practices in order to better support continued industry growth.
AGFW is an independent, non-profit industry association formed in 1971 with headquarters in Frankfurt, Germany that currently represents the interests of approximately 450 utilities operating district heating systems, industrial companies, manufacturers and research institutes across Germany and Europe and actively promotes the development, expansion and operation of energy-efficient district heating, district cooling and CHP in Germany and around the world.
IDEA is an independent, non-profit industry association formed in 1909 with headquarters in Westborough, Massachusetts that currently represents the interests of approximately 2000 members worldwide involved in operation, design, construction and optimization of district heating, district cooling and CHP (cogeneration) systems, with a majority of members in North America, as well as Europe, Middle East and Asia Pacific.