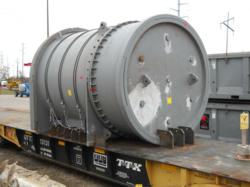 MHF obtained exact measurements and supplied blocking that fitted up perfectly to the canister.
Wexford, PA (PRWEB) July 16, 2012
MHF, a leading provider of packaging, transportation, logistics and technical services, recently completed a project to provide a custom IP-2 metal canister in which to load and ship a Lower Reactor Vessel (LRV) from a nuclear reactor located at a generating station in the northeastern United States.
MHF teamed with Radiation Protection Systems, Inc. (RPS) to perform engineering, design and fabrication of the LRV canister. RPS also provided structural design and analysis to certify the canister as compliant with U.S. Department of Transportation Industrial Packaging 2 (IP-2) specifications as well as the radiological engineering to ensure canister dose rates would meet 49 CFR 173 requirements as a Low Specific Activity II shipment.
The basic requirements for IP-2 qualification are that the contents shall not leak, and the shielding shall not be damaged so as to allow extra radiation from the contents during normal transport or in some accident conditions such as a defined drop.
The original conceptual model indicated that the LRV canister would require two-inch steel on the walls, the bottom and the lid, with five inches of grout in the annular (ring-shaped) region between the LRV and the canister walls.
Ultimately, the conceptual design and dose rates proved to be very consistent with the final design and the as-shipped dose rates. The conceptually modeled dose rates were 25 mRem/hr contact (side of canister) and 5 mRem/hr at two meters. The as-shipped dose rates were 23 mRem/hr on the side of the canister and 2.5 mRem/hr at two meters. The conceptual gross weight was 302,000 pounds and the final as-shipped weight was 336,000 pounds.
The blocking and bracing necessary to secure the canister for shipment was designed directly in the shop immediately after the canister was fabricated. MHF obtained exact measurements and supplied blocking that fitted up perfectly to the canister.
The loaded canister was transported as an exclusive-use, open transport, Class 7 radioactive shipment.
This project was the most recent in MHF's 17-year history of providing packaging and truck or rail transportation of specialty cargo such as reactor heads, steam generators, pressurizers, feedwater heaters, rotors, condensers, pumps and other over-dimensional items during decommissioning or outage projects conducted by Connecticut Yankee, Entergy, FirstEnergy Nuclear Corporation, Maine Yankee, Nebraska Public Power District, Progress Energy Corporation, Sacramento Municipal Utility District, Southern California Edison Company and other nuclear utilities.
About MHF Services
MHF Services (http://www.mhfservices.com) is an integrated packaging, transportation and logistics provider offering seamless solutions for generators and shippers of radioactive, hazardous, and non-hazardous waste, materials, and byproducts. MHF provides transportation and logistics solutions to U.S. Department of Energy contractors, and companies in the nuclear utilities, environmental services, energy, mining, metals, chemical, and petrochemical industries.