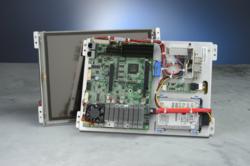 The PPC3-12's combination of embedded PC functionality, industrial-grade construction, small size, and wide operating temperature makes it ideal for industrial applications.
Arlington, TX (PRWEB) July 12, 2012
WinSystems introduces a 12.1-inch open frame, color flat panel PC and 1.66GHz single board computer (SBC) based on the Intel® Atom™ processor. The PPC3-12 panel PC is a compact, ready-to-mount flat panel display subsystem that also includes a resistive touchscreen integrated into a chassis less than three inches deep. The open frame (i.e. without a front bezel) chassis permits flexible mounting of the system for OEMs and integrators with tight system integration and minimal space requirements.
The PPC3-12 is perfect for networked applications since it is shipped with a wired Ethernet connection plus expansion option for 802.11 wireless Ethernet and/or CDMA/GSM cellular modems. The unit will operate from -30° to +70°C without the need of a fan. The combination of embedded PC functionality, industrial-grade construction, small size, and wide operating temperature range makes the unit ideal for medical, transportation, instrumentation, kiosks, industrial automation, security, and control applications.
A high-luminance, wide-viewing angle, 12.1-inch diagonal color TFT with replaceable LED backlight is the foundation of the Panel PC. It supports XGA 1024 x 768 pixels that can display 16.2M (8-bit RGB) or 262,144 (6-bit RGB) colors. This flat panel display has a high luminance of 500 cd/m² (typ.). It uses long-life LEDs as edge lights which are user replaceable. The display supports a viewing angle of ±80° (typical) for both horizontal and vertical. This wide viewing angle permits easy panel placement with maximum operator viewing flexibility.
WinSystems offers a single core 1.66GHz N455 and dual core 1.8GHz D525 version of the SBC to serve as the computing and display engine for the Panel PC. Both SBCs are based on the Intel® Atom™ processor family with a full set of I/O interfaces including two Gigabit Ethernet ports, VGA and dual channel LVDS flat panel video, miniPCI connector to support wireless networking modules, eight USB 2.0 ports, four serial COM ports, 48 digital I/O lines, audio, LPT and PS/2 port for keyboard and mouse. The board also has PC/104 and PC/104-Plus connectors for support of additional off-the-shelf or user-designed specialty I/O modules.
An integrated resistive touchscreen eliminates the need for a keyboard and mouse. It allows all kinds of touch input devices to activate the screen including fingers, fingernails, styluses, and gloved hands.
The open frame aluminum chassis permits flexible mounting options. It is designed to hold both the flat panel in place and prevent any twisting or excessive stress on the glass surface. Aluminum has a high strength-to-weight ratio, will not rust like steel, and is corrosion resistant.
The PPC3-12 supports operating systems such as Linux, Windows® XP, Windows® 7 and Windows® Embedded. The SBC includes 2GB of system memory with either or both an optional SATA drive and CompactFlash SSD.
The system requires +12V and +5V DC and is RoHS compliant.
AVAILABILITY AND PRICING
Delivery is from stock to three weeks for the PPC3-12-0-384-S2, which is configured with a 1.66GHz single core N455-based SBC and 2GB of system DRAM. Please contact WinSystems' Application Engineering Group for pricing; telephone: (817) 274-7553, Fax: (817) 548-1358, and e-mail: info(at)winsystems(dot)com.
Special configurations can be populated for OEM applications.
PRODUCT PAGES

ABOUT WINSYSTEMS
WinSystems, located in Arlington, Texas, designs and manufactures industry-standard PC/104, PC/104-Plus, EPIC, EBX, Pico-I/O, SUMIT-ISM, and STD Bus single board computers (SBCs), I/O modules, and enclosures for use by OEMs and system integrators worldwide. We have served the industrial, transportation, pipeline, Mil/COTS, communications, and medical markets for over 30 years. We are an employee-owned company.