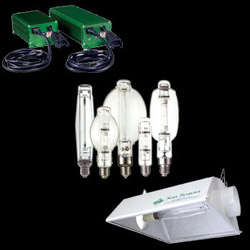 (PRWEB) July 17, 2012
Interior Gardens Inc., an innovate retailer of cutting edge products to the indoor gardening industry, is pleased to announce and expanded marketing partnership with Sunlight Supply Inc. Sunlight Supply Inc. is a leading manufacturer of innovate grow light systems.
Interior Gardens Inc. President Bret Hilde stated, "We are pleased to be able to offer Sunlight's new energy saving systems to our loyal customers. Highly efficient digital grow light systems, such as the new Galaxy Select-A-Watt Electronic Ballasts, can save large scale user hundreds of dollars per year off their electric bills. The dimmable feature also allows smaller scale gardeners the flexibility of getting different PAR illumination intensities utilizing just one bulb."
Indoor and organic gardening are the two fastest growing segments of the gardening marketplace. Concern over chemicals in the food supply has caused the organic gardening supply industry to have double digit annual growth for the past two decades. The introduction of energy efficient grow light ballasts and bulbs has contributed to a 25+% rate of growth for indoor gardening supplies.
Besides state of the art lighting systems such as the Galaxy Select-A-Watt, Interior Gardens is adding state of the art fertilizers like the Nectar for the Gods line from Oregon's Only Organics and the Roots Organic products from Aurora Innovations. For organic soil growers, Interior Gardens is now carrying Vermisoil and Vermiblend from Vermicrop Organics of Rocklin, California
.
Interiors Gardens will be offering these new products at their brick and mortar hydroponic and organic retail gardening store located at 1620 Central Avenue NE, Suite #115 in Minneapolis, MN. Inquiries from outside the Minneapolis – St. Paul metropolitan area can be directed to the company's online e-commerce site http://www.hydroponics-garden.com.