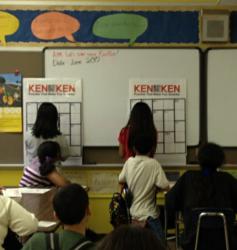 It really supports their math knowledge and their computation skills, but in a way they don't even realizing their computing and dothing math--just having fun.
Pleasantville, NY (PRWEB) July 23, 2012
KenKen Puzzle LLC is ready to present the 2012-2013 KenKen Classroom Program (KKCR). Calling all teachers, get ready to sign up!
The KKCR Program is one set of puzzles that range in size from 3x3 to 5x5, with two 6x6 teamwork puzzles. Puzzle sets are sent to teachers once a week, usually on Sundays. The puzzle sets are carefully selected to ensure that they are fit for all class levels and skill levels. KKCR has been beneficial for students of all different skill levels and abilities. Teachers have reported using KenKen puzzles as a beneficial teaching tool for gifted children as well as for students with learning disabilities.
Up to now, thousands of educators from all over the world have signed up to use KKCR in their classrooms. The number of educators using this brain stimulating exercise that is understandable, fun and challenging is only expected to rise. The puzzle's universality, with an array of difficulty levels and no language, gender or age requirements, allows all students the chance to participate.
KenKen emphasizes logical thinking and problem solving in the context of basic operations. The math puzzle improves numeracy skills and logical thinking, and develops concentration, perseverance and stamina. It is no surprise that NCTM, the world's largest organization devoted to math education, has promoted the mind-strengthening game to educators seeking to improve the cognitive abilities of their students in an engaging way, since 2009.
Many educators have raved about KenKen as a beneficial tool that they--and their students-- "love." "It really supports their math knowledge and their computation skills, but in a way they don't even realize their computing and doing math—just having fun." The puzzle format encourages independent thinking, emphasizing trial and error and math reasoning. Additionally, students enjoy the satisfaction of completing a challenging puzzle. "It's fun when they get through a puzzle at the end and they feel a real great sense of accomplishment."
To discover more about what teacher's are saying about KenKen Classroom, click here. If you are already enrolled in the KKCR program, be sure to spread the good word on this beneficial education tool to teachers you may know.
In the meantime, research shows that students lose 2-3 months of math skills every summer. KenKen is a fun, quick, and engaging way to stop learning loss, without missing out on summer fun. KenKen is prominently featured on the NCTM's illuminations website and can also be accessed on the KenKen Premium Edition app for the iPhone/iPad or can be played for free at KenKen.com.
About Nextoy:
Nextoy LLC was founded in 1981 by Robert Fuhrer. For more than 30 years, Nextoy has been connecting original toy and game ideas with the people who market them. Nextoy acquired the worldwide rights for KenKen in 2007 and serves as product placement specialists in the fields of toys and games, publishing, gifts and novelties. Nextoy, LLC clients include: Hasbro, Mattel, SpinMaster, The Sharper Image, Uncle Milton Industries, Crayola, Bandai Japan, Irwin Toy, Basic Fun, St. Martin's Press, HarperCollins, Capcom, Goliath Games, Seven Footer Press and Winning Moves Games.