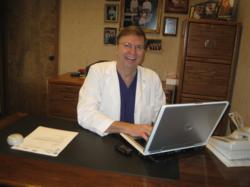 Houma, LA (PRWEB) July 16, 2012
Murray L. Rabalais, P.D., D.D.S., helps patients whose gums have dramatically receded due to gum disease by performing gum graft procedures. Receding gums can be a very noticeable side effect of gum disease. As the gum moves down toward the root, the patient loses that natural barrier and bacteria can attack the teeth. Without enough gum tissue protecting the teeth, the gums and bone can begin to deteriorate and tooth loss may occur. Gum grafting can reduce the chances of this happening.
At Progressive Periodontics, Dr. Rabalais is dedicated to helping his patients fight the effects of gum disease. Whether one tooth is affected or there are a number of teeth that are exposed by receding gums, the gum graft procedure is commonly used to prevent additional recession. There are three gum graft types that are frequently used. The gingival graft uses tissue that is next to the upper back molars. Coronal grafts use tissue near the recessed area and lifts it up into place, while the Pedicle grafts use gum tissue from a nearby tooth. The grafted tissue quickly begins to attach to the new location and healing is quite rapid.
Dr. Rabalais will carefully go over the options individually with each patient and determine which gum graft is most likely to work the best for that patient. His goal is to protect the teeth as well as to improve the aesthetic look of the gum line.
It is important for patients to understand and follow instructions on caring for the area where the gum graft was performed after the procedure. Brushing and flossing must not be done for a period of time, but mouthwash can be used to help kill bacteria. Soon, the gums will have healed and normal brushing and flossing can resume. To learn more about receding gums and gum grafting, please visit http://www.louisiana-periodontist.com/Treatments/PeriodontalPlasticSurgery.
Progressive Periodontics is a periodontal practice offering patients personalized dental care for Houma and New Iberia, Louisiana since 1980. Dr. Murray L. Rabalais graduated from Northeast Louisiana State College with a Bachelor of Science degree in Pharmacy. He received his Doctor of Dental Surgery degree from Loyola University in 1970. After serving in the United States Army he entered the LSU School of Dentistry for post-graduate studies in Periodontics and received his Certificate in Periodontics in 1980. Dr. Rabalais is part of one percent of dental professionals providing the most recent FDA cleared laser procedure for gum disease and periodontal treatment. To learn more about Progressive Periodontics and their dental services visit their website at http://www.louisiana-periodontist.com and call either office. For the Houma, LA office, call 985-231-5333, and for the New Iberia office, call 337-376-0767