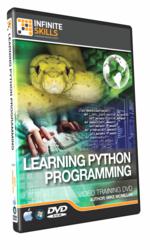 Quickly Learn How To Program In Python
(PRWEB) July 13, 2012
Software training firm InfiniteSkills, Inc. recently introduced a new course, Learning Python Programming Tutorial, for beginning programmers interested in web application development.
The Learning Python Programming Training DVD - Tutorial from InfiniteSkills, developed as an introductory companion to the Web Programming With Python Tutorial, is designed to get even the newest programmers on the way to creating complex web applications by providing a necessary first-step: learning Python's basic structures and most fundamental commands, and how the language integrates with web-frameworks.
Learning Python Programming Training DVD
Python's versatility and simplicity have made it an indispensable element in the continually evolving landscape of web application development. With a large reference library, Python can handle a wide variety of applications. It is also constructed with syntax and verbiage that resemble regular English, making Python code relatively simple to understand and execute.
Web frameworks like Django enable Python to carry out complex applications within the framework, allowing diverse application types, with varying degrees of complexity, to bring their functionality to the web. Python is currently used by companies ranging from Spotify and Yahoo to NASA.
Course author and university professor Mike McMillan, is an information technology expert with more than twenty years of experience in computer programming and more than ten years in computer science instruction.
With McMillan's professional guidance, users will master the basics of Python programming, beginning with how to write a basic program, getting familiar with Python data types, and learning basic programming commands like if-statements and while-loops.
McMillan also covers basic Python characteristics like functions, modules, and input and output capabilities. Additional topics include exception handling and loops, an introduction to object-oriented programming, iterations, data structures, and more.
"We've provided a solid foundation in Python," McMillan says. "Students can take an important first step toward becoming effective at programming Python and eventually learning to develop web-based applications."
"Hopefully," he adds, "a viewer who wants to learn how to write web programs in Python but doesn't feel comfortable with the language can purchase this course to learn the fundamentals of Python programming."
Free demo videos and a full list of course contents can be found on the Learning Python Programming Video training page on the company website:
http://www.infiniteskills.com/training/learning-python-programming.html
InfiniteSkills offers the Learning Python Programming Tutorial either as a DVD or a direct download from the company website at a retail price of $99.95. InfiniteSkills tutorials are compatible with both Mac and Windows operating systems. Shipping is available around the globe. Additionally, InfiniteSkills tutorials are supported by project files which correspond to examples in the videos.
About InfiniteSkills Inc.
A leader in the field of software training, InfiniteSkills designs its courses on a task-oriented model, teaching complex skills by providing hands-on examples and guiding users as they carry out essential functions. InfiniteSkills offers a wide range of software titles available as DVDs, digital downloads, and in iPad editions, keeping with company aim of delivering professional training to customers anywhere they want to learn.