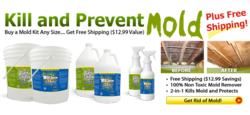 Molderizer works by breaking down the DNA of the spores to ensure that they're completely gone.
Minneapolis, MN (PRWEB) July 13, 2012
Mold removal cost can strain the maintenance budget of a house or a building. In the same way, it can also pull down the quality of a mold professional's service and profit. To help both mold victim and professional get a better result from a mold removal process, Molderizer suggested the use of its solutions that promise an easy, effective and inexpensive mold treatment.
Get a Sample of the Non-Toxic Mold Remediation Products Today
Mold is basically a group of fungal species that grow in food, items and surfaces. Its presence causes biodegradation that can spoil foods and damage properties. But while a moldy food can't be saved, a mold-damaged surface or item can still be restored. That restoration, without hassle and big spending, is exactly what Molderizer is offering via its mold removal products.
Moisture is the primary element that triggers mold growth along with dust. And because those two elements can be anywhere, any place is practically prone to mold infestation, especially during the wet season.
However, summer is here and mold is kept at bay. That's what others think and so they put off any preparation against mold presence only to be proven wrong later on. That's because though it is true that summer is a dry a season, not every place, nook or cranny is kept away from moisture during this time of the year. Many areas in houses and even commercial spaces are always exposed to moist making mold an "all-year" problem.
If left unattended, the presence of mold can turn into a huge infestation in just a short time. And that do not bid well for any item or anybody exposed to it. The infestation can eat the item or the surface while causing allergic reactions and respiratory problems. To avoid those negative effects, a mold removal process has to be implemented. But the problem is, mold removal cost is high because of the expensive supplies and high-maintenance equipments that mold professionals need for the process.
Learn To Do the Mold Removal Process by Yourself
But thanks to Molderizer and its non-toxic mold remediation products, treatment for mold infestation is now easier. In effect, that makes the mold removal cost cheaper giving mold victims big savings and mold professionals huge profit.
Molderizer offers new mold removal products – Safe Shield and Molderizer. The first one is for mold prevention and the other for mold removal. Molderizer works by breaking down the DNA of the spores to ensure that they're completely gone. And that prevents the infestation from coming back which in turn prevents more spending.
The best part about it is that the mold remediation products do their work without exposing the user to strong chemical ingredients. They are made with natural and safe ingredients and so they also do not add more pollutants to the environment. In a way, that makes a mold professional's mold remediation service more attractive to clients as it offers a bonus of "greenness."
Take Advantage of the Molderizer's 10% Discount and Free Shipping Offer. Just Enter Code "pr10" at checkout.