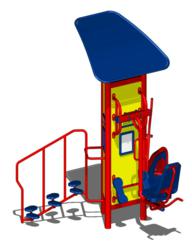 Three Station Exercraft Fitness Tower, Modular Design, All Steel Construction, Distributed By Pacific Play Systems Inc.
Los Angeles, California (PRWEB) July 12, 2012
In order to maintain a healthy and balanced lifestyle, physical activity and exercise are vitally important and there is no better time than the summertime to get outside and get fit. Though children often become carried away with the dizzying fun of playground equipment, parents supervising their children unfortunately do not quite get the same exhilarating opportunity. By placing fitness equipment adjacent to a playground site, Pacific Play Systems has found a way for both parents and children alike to get the most out of their time at the playground, allowing parents to get some important exercise while supervising children at play.
Exercraft fitness equipment is manufactured by Krauss Craft, Inc. and is solely distributed by Pacific Play Systems throughout Southern California. Exercraft fitness equipment encourages the participation of adults in the play environment and promotes exercise and physical fitness, both for adults and children. Exercraft is built with a modular design that allows customers to design and configure a workout course to suit their fitness needs and work with the different aspects of their particular space. By choosing from a variety of different fitness equipment elements, such as the torso twist, chest press, sit-up/crunch, step-up/stretch, shoulder press, cross trainer, tai chi spinner, leg press or dip/push-up/pull-up, customers can design their own fitness tower or station with up to three activities for each tower. Though designed for adults, Exercraft fitness equipment can be used by children 13 years of age and older with adult supervision. Simple illustrated instructional signage is found on each fitness station, making Exercraft fitness equipment accessible and easy to use particularly for beginners.
About Pacific Play Systems
Pacific Play Systems offers accessible commercial playground equipment and fitness equipment in San Diego, Orange, Riverside, San Bernardino, Los Angeles and Imperial Counties. They offer a full range of products and services that include soft-contained indoor and outdoor commercial playground equipment, as well as, playground equipment for parks, schools, preschools, churches and other commercial entities. Pacific Play Systems also offers various types of playground safety surfacing, shade structures, shelters, site furnishings, sports equipment and installation. For more information, please contact them at 760-599-7355 or visit their website http://www.pacificplayinc.com/