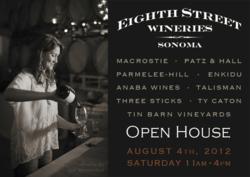 Sonoma, CA (PRWEB) July 13, 2012
This summer, the dynamic community of vintners known as Eighth Street Wineries will host its semiannual open house. The event, now in its eighth season, is scheduled for August 4th from 11 a.m. until 4 p.m.
Housed in an unlikely warehouse district in Sonoma, the independent winemakers of Eighth Street Wineries produce small lots of wine that is the pride of the region. Serving directly from their cellars, they offer new releases and library wines alongside fine food pairings. Throughout the day, winemakers are slated to offer public tours, vertical tastings, and other activities.
This event dovetails with the first public opening of Suite D, the new community culinary space launched by Sondra Bernstein (girl & the fig, ESTATE). From noon till 3 p.m., Suite D will offer sandwiches and gourmet snacks for sale to supplement the wineries' fine food pairings. Additionally, several of the North Bay's most popular food trucks will sell their wares during the day.
Cork recycling, courtesy of Recork, will be provided at Tin Barn Vineyards and Three Sticks Wines. The public is welcome to bring corks to recycle.
Tickets and a schedule of winery activities is available on the Eighth Street Wineries website.
August 4th, 2012, 11 a.m. to 4 p.m.
$35 in advance / $45 at the door / $10 off for wine club members