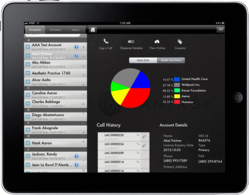 Chandler, Ariz. (PRWEB) July 12, 2012
360 Vantage®, a leader in cloud-based sales and marketing technology solutions for Life Sciences, announced today an agreement with a specialty pharmaceutical company focused on cancer therapies for its 360 CRM™ solution built on Salesforce.com. The custom Salesforce.com solution, which uses the Apple® iPad®, will be the first CRM system for the Company and will be used by their specialty sales reps to support the Company's first new product.
360 Vantage was selected based on their Salesforce.com, mobile and industry domain expertise, as well as their ability to meet an aggressive timeline based on the Company's immediate product launch.
"The custom 360 CRM solution will help support the Company's plans to bring new products to market, while helping their sales reps leverage the convenience of the iPad to be more effective and responsive in the field," commented Vishal Dass, head of sales at 360 Vantage. "The 360 Vantage solution provides a quick and easy way to utilize Salesforce.com and gives the Company a competitive advantage."
Delivered as a cloud-based service, the 360 CRM solution will give the specialty sales force access to accurate, real-time customer data, market intelligence and reporting through an intuitive interface. The flexible system also provides the Company with a platform that can evolve as the Company's business requirements change and as their product lines expand.
About 360 Vantage®
Established in 2005 and headquartered in Chandler, Arizona, 360 Vantage® is a leader in cloud-based mobile sales and marketing systems designed to solve the more complex front office challenges in Life Sciences, Healthcare and other industries. The company offers a full suite of professional and managed services in addition to its 360 CRM™, 360 CLM™, e-Learning and compliance solutions. Built on the Force.com platform and Salesforce.com, systems are designed to empower the mobile sales force and marketing teams with anytime, anywhere access to customer data and sales aids – from any device – giving the organization a distinct competitive advantage. The company CEO and founder, Mario Martinez II, is a Life Sciences sales and marketing technology veteran and can be found on the company blog, Twitter @360Vantage or @360CEO, LinkedIn, Google+ and Facebook. For more information, visit http://www.360vantage.com.