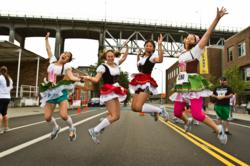 Kick off the fall with the season's first 5K!
Seattle, WA (PRWEB) July 11, 2012
Runners can start training early for the 10th annual Fremont Oktoberfest 5K presented by Pyramid Breweries and taking place Sunday, September 23rd at 10:00am. The official 5K takes race participants from the Solstice Plaza (near N. 34th Street and Fremont Ave North) along the scenic Burke Gilman Trail and Ship Canal and ending in the beer gardens of Fremont Oktoberfest.
Regardless of experience, these lighthearted training tips will prepare Fremont Oktoberfest 5Kers for the ultimate autumn run.

Register early. Registration is now open. Pre-registration for the race is $25 and includes a Fremont Oktoberfest 5K t-shirt. Day-of registration is $35, but t-shirts are not guaranteed.
Sign up for a special running division.
o Beer Belly Division: Got a beer belly? No problem. Beer Belly Division participants will be treated like Oktoberfest royalty. Entrants that jump on the scale and qualify for the prestigious position – men who are +220 pounds and women who are +175 pounds – form this coveted crew. Besides earning the respect and admiration of fellow racers, division members will be honored with the unfair advantage of starting first, and thus ensuring the possibility of getting to the beer garden finish line before the rest of the pack.
o Team Division: Running is more fun with friends! Dress in dirndl, lederhosen or costume of choice and take your buddies to the streets in the four-person team division. The winning team will be determined by average race times.
Train often. Want to practice for the Fremont Oktoberfest 5K? Try running a few 5Ks to get your racing feet wet. Trainers could even get the chance to run alongside the Fremont Oktoberfest 5K Runners in The Great Kilted Run, Alki Beach 5K, or Iron Girl 5K. Looking for more ways to train? Partcipants can stop by the Pyramid Breweries Ale House and practice lifting a few pints.
Stay motivated. Setting realistic goals is an easy way for any runner to stay motivated to complete a race. At the Fremont Oktoberfest 5K, reaching the beer garden is a popular goal set by many racers. Treating yourself to a refreshing microbrew is the perfect reward for completing the first run of fall.
Kick off the fall with the season's first 5K! For more information or to register to run, visit FremontOktoberfest.com/run. Keep up with the Fremont Oktoberfest 5K runners at Twitter - @FOktoberfest #FOKT5K.