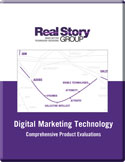 We're seeing successful enterprises embrace the role of 'marketing technologists'.
Boston, MA / London, England (PRWEB) July 17, 2012
The growing sophistication of digital marketing toolsets is driving a greater need for "Enterprise Marketing Technologists" -- specialists who can bridge the traditionally quite separate worlds of marketing and information technology, according to new research released today by independent analyst technology research firm, The Real Story Group (formerly CMS Watch).
RSG's Digital Marketing Technology research critically evaluates 18 major vendors, including Adobe, Aprimo, Eloqua, ExactTarget, IBM, Marketo, Salesforce, SDL, Silverpop, and Sysomos.
The growing sophistication of digital marketing platforms requires marketing and IT teams to work more closely together to exploit these tools' full value:
•A desire for richer landing pages and website integration is requiring more developer intercession
•Effective CRM integration is becoming more complicated with richer datasets across diverse repositories
•Conflicting reports from different social media monitoring platforms are compelling customers to scrutinize vendors' "black-box" interpretation methods
•Spiking mobile usage is driving demand for more advanced customization skills within these tools
"Marketing teams of the future will embrace technology, rather than follow a 'somebody-else's-problem' approach," argues RSG Senior Analyst, Irina Guseva. "Most digital marketing tools are cloud-based and can be purchased without IT input, but marketing leaders eschew that input at their peril," she adds.
"IT teams need to better understand the intense pressures and accelerated rhythms within marketing groups," notes RSG Senior Analyst, Apoorv Durga. "We're seeing successful enterprises embrace the role of 'marketing technologists' -- specialists dedicated to supporting the rapidly evolving and increasingly data-intensive requirements of enterprise digital marketing teams."
RSG's 225-page Digital Marketing Technology evaluation research is available via a range of subscription packages.
About RSG...