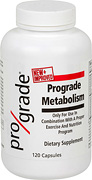 Findings confirm that while diet and exercise can result in significant fat loss, adding Prograde Metabolism to the mix takes these effects to a much higher level.
West Palm Beach, Florida (PRWEB) July 11, 2012
Results announced from a study conducted at the Center for Applied Health Sciences (CAHS) in Stow, OH indicate the multi-ingredient weight loss supplement Prograde Metabolism™ is safe and effective as an adjunct to an eight-week diet and weight loss program. It enhances body composition, reduces hip and waist girth and increases energy levels in overweight men and women, and had no adverse side effects or events based on comprehensive clinical safety assessments.
Research was led by Doctors Hector Lopez, M.D., CSCS, FAAPMR, and Tim Ziegenfuss, Ph.D., FISSN. Seventy healthy men and women participated in the randomized, double-blind, placebo-controlled study, comparing the results of ingesting four capsules per day of Prograde Metabolism or a placebo. Following baseline testing, both groups underwent eight weeks of daily supplementation, a calorie-restricted diet, and supervised exercise training. All subjects were tested for changes in body composition via DEXA, serum adipokines (adiponectin, resistin, leptin, TNF-α, IL-6) and general markers of health (heart rate, blood pressure, and comprehensive clinical chemistry panels of sera and plasma), before and after eight weeks of supplementation.
The following were the results/findings of Prograde Metabolism relative to placebo:
4.2 times greater weight loss,
2.9 times greater loss of body fat,
4.3 times greater gain in lean mass,
7 times greater decrease in hip girth,
8 times greater decrease in waist girth,
5 times greater increase in subjective feelings of energy, and
4.3 times greater increase in lean mass-to-fat mass.
In addition, the study found Prograde Metabolism showed strong trends toward the beneficial effects of lowering levels of resistin and maintaining higher levels of leptin. There may also be a strong surge and increase in adiponectin levels when Prograde Metabolism is added to a diet and exercise routine.
"Prograde is to be congratulated for funding such a high quality clinical trial. Fewer than five percent of products in the sports nutrition industry undergo finished, product-specific testing to demonstrate their safety and efficacy," stated Ziegenfuss.
According to Lopez, "Findings confirm that while diet and exercise can result in significant fat loss, adding Prograde Metabolism to the mix takes these effects to a much higher level. The formula enhances calorie burning, boosts metabolism and promotes growth of lean tissue so subjects not only lost weight, they looked leaner."
The full methodology and results of the study are currently being prepared to be submitted to a medical journal.
To review an abstract of the study, visit http://ProgradeMetabolismAbstract.com.
To learn more about Prograde Metabolism, visit http://ProgradeMetabolism.com.
About Prograde Nutrition:
Prograde Nutrition is a leading dietary supplement and nutrition education company. Unlike many supplement companies, Prograde believes in educating consumers about the value of whole foods, nutrition and exercise. When combined with the proper supplements, Prograde believes this approach provides incredible results for its customers, which has earned the company its reputation as a trusted leader in both nutritional products and education.