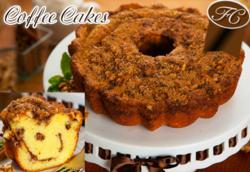 The coffee cakes, bundt cakes, and tarts we offer for nationwide delivery are suited to exceeding the quality and flavor customers expect from a mail order dessert
Sylmar, CA (PRWEB) July 16, 2012
FantasiCakes has been offering its gourmet cakes and tarts to its customers nationwide for years. But now they've added more variety to the product line. Smaller sized 8" Bundt Cakes and Coffee Cakes are every bit delectable as their larger 10" counterparts. FantasiCakes is known for delivering  pastries and bakery shop goods to nationwide buyers and wholesale customers across America. This addition only ads to there already impressive product line.
Fantasicakes gourmet Coffee Cakes and Bundt Cakes come in a variety of great flavors to choose from. For instance the Cinnamon Walnut Coffee Cake with its sweet combination of rich coffee cake, crunchy walnuts, and a cinnamon streusel that is out of this world! The Cinnamon Walnut Coffee Cake, along with the Pecan Coffee Cake, Apple Cinnamon Coffee Cake, and Cinnamon Coffee Cake all come with sweet icing to drizzle on, just before serving. To add to the variety, Fantasicakes added a Chocolate Chip Coffee Cake, Marble Coffee Cake, and Chocolate Mocha Coffee Cake. All of which are made from scratch everyday using fresh eggs, creamy sour cream, Madagascar Bourbon Vanilla, and a generous amount of high quality chocolate. All these great flavors now come in small sizes.
Everyone has had a Bundt Cake one time or another, but Fantasicakes has truly taken the Bundt cake to the next level. Fantasicakes Bundt Cakes are all made fresh everyday with only the finest gourmet ingredients available in the market. The result is a moist, light, and flavorful Bundt cake that has no equal. They have eight different varieties: Triple Chocolate Bundt Cake, Red Velvet Bundt Cake, Rum Bundt Cake, Chocolate Rum Bundt Cake, Lemon Bundt Cake, Orange Bundt Cake, Blueberry Bundt Cake, and Walnut Raisin Bundt Cake. Visit fantasicakes.com today to view all of our gourmet pastries and bakery goods.
In addition to the Bundt Cakes and Coffee Cakes, FantasiCakes will also unveil their Layer Cakes available for mail order delivery this summer. These exquisite cakes are perfect to send as Birthday Gifts or just to show someone you care. Individually handcrafted to perfection, Fantasicakes know that when it comes to gift-giving, a personal touch makes all the difference. Fantasicakes new layer cakes will come in a variety of great flavors, some of which include Chocolate Cake, Tiramisu Cake, and the famous Tuxedo Cake which is made with three layers of white sponge cake with cream cheese filling, chocolate ganache, and white chocolate ganache. Visit fantasicakes.com for more information.
About Fantasicakes:
Founded by Van Keshish, Fantasicakes began as a pastry shop in the Los Angeles area, supplying pastries and bakery shop goods to corporate and celebrity events, as well as local restaurants. "The coffee cakes, bundt cakes, and tarts we offer for nationwide delivery are suited to exceeding the quality and flavor customers expect from a mail order dessert," Keshish added. "When I've seen and sampled what our competitors had to offer, I knew I could do a better job." Fantasicakes pastries are individually and carefully handcrafted using the finest gourmet ingredients. The fascinating designs and exquisite flavors of Fantasicakes creations enhance the quality and beauty of the events they are served at, leaving a lasting impression. As the bakery business grew, Keshish looked for new ways to expand. Finding the offerings of other online pastry shops lacking, Keshish brought FantasiCakes online for everyone to enjoy their mail order cakes and tarts anywhere in the United States. For more information, visit http://www.fantasicakes.com