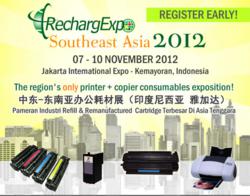 RechargExpo Southeast Asia is an event focused on bringing together buyers and sellers involved in the document printing industry's supplies sector.
Jakarta, Indonesia (PRWEB) July 16, 2012
RechargExpo Southeast Asia, along with ALL PRINT Indonesia will be held on November 7-10, 2012, at Jakarta International Expo. The Expo will be supported by the Indonesia's Ministry of Trade, Ministry of Industry, Indonesia Master Printer Association (PPGI), Asean Print Awards and the Indonesia Packaging Federation (FPI).
This will be ALL PRINT's 15th international exhibition on printing and RechargExpo Southeast Asia's 7th year on printing supplies. RechargExpo Southeast Asia is an event focused on bringing together buyers and sellers involved in the document printing industry's supplies sector.
Its scope includes (but is not limited to) the following: Digital Image Printing, Inkjet and Toner Cartridges, Ink & Continued Ink Supply System (CISS), Photo Paper, Themal Ribbons, Black and Color Toner, Parts and Components (OPC,Drum, Fuser, Sleeve, Meg Roller), Chips,Empties, Copier and Copier Supplies, Multi-function Copiers, and Managed Print Service (MPS). ALL PRINT is an event that features the following profile: Digital Printing, Specialty Printing Offset Printing , Digital Imaging, Media Sign, Rotogravure, Screen Printing, Label Printing, Print Media, Publishing and Converting technology.
Indonesia, a vast polyglot nation boasts the world's fourth largest population of 2.4 billion and a GDP of US$ 706.6 billion (data based on World Bank 2010). According to Indonesia's 2012 Economy Profile by Indexmundi, the country has weathered the global financial crisis relatively smoothly because of its heavy reliance on domestic consumption as the driving force of economic growth, as well as increasing investments by both local and foreign investors that has also supported solid growth. Indonesia outperformed most of its regional neighbors, and import from its partners reached the following in 2010: China (15.1%), Singapore (14.9%), Japan (12.5%), US (6.9%), Malaysia (6.4%), South Korea (5.7%) and Thailand (5.5%).
"The general sentiment seemed to be that the country was primed for strong growth for years to come. The Indonesian economy continues to be characterized by exceptionally strong consumption and investment demand", commented Taimur Baig, a regular guest on CNBC TV as well as the Chief Economist for India, Indonesia and Singapore and Global Markets Research at Deutsche Bank AG. (Source: CNBC)
Explore the latest opportunities in your core market, and discover new profit potential in other closely related markets, all in the same exhibit hall! By combining these two shows under one roof, we create a unique buying event where you have the opportunity to focus on your primary market while also researching complimentary products. More information along with registration details can be obtained at http://rechargeasia.com/expo/rechargeexpo-southeast-asia-2012.html
RechargExpo Southeast Asia 2012
Venue: Jakarta International Exposition, Jakarta, Indonesia,
Date: November 7th -10th, 2012
ABOUT RECHARGE ASIA CORPORATION
Recharge Asia Corporation is a media company focusing entirely on the imaging and document printing aftermarket industry. Our mission is to "Bridge the Pacific", bringing together counterparts from both Eastern and Western countries. Recharge Asia has evolved into a multi-media and multi-national corporation headquartered in Los Angeles, California, USA, with Chinese offices in Beijing, China. These geographically-targeted offices ensure that Recharge Asia remains true to its mission, staffing each location with dedicated, knowledgeable personnel geared toward helping the industry as a whole grow.
Recharge Asia Corporation's multi-media divisions include:
Recharge Asia Magazine
RechargExpo
AIF: Asia Imaging Fair
Recharge Asia Magazine Online
Contact:
Jessica Hao, RechargeAsia Corp.
China office: +86 1051265580
US office: +6262132636
Email: info(at)rechargeasia(dot)com
Web: http://www.rechargeasia.com