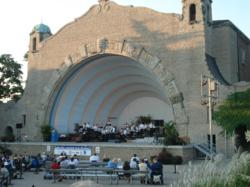 Toledo, OH (PRWEB) July 12, 2012
The Toledo Symphony has announced that Robert Mirakian will conduct the third Music Under the Stars concert on July 22nd. The theme is "Music of the Movies".
Highlights include music from Pirates of the Caribbean, The Sound of Music and selections from Star Wars.
Sam Szor, vocalist Keith Hoyt and the Ardan Academy of Irish Dance will make guest appearances.
The 2012 Mercy Music Under the Stars presented by The Andersons is free.
More information can be found at http://www.toledosymphony.com. The series is managed by the Toledo Symphony with assistance from the Toledo Zoo.
TARTA's "Stars Shuttle" will leave area pick-up destinations at 6:30pm. For more information on routes and timing, visit http://www.tarta.com/rider-services/music-under-the-stars-shuttle/
For headshots and more biographical information, please contact Ashley Mirakian, Director of Marketing and Public Relations.
Robert Mirakian, conductor
Recently appointed Music Director of the Perrysburg Symphony Orchestra, Robert Mirakian is also Assistant Conductor of the Toledo Opera, director of the University of Toledo Symphony Orchestra, and director of the Toledo Symphony Youth Orchestras' Concert Orchestra and Cadet Strings Program. He has previously served as Music Director of the Richmond Philharmonic Orchestra and Director of Orchestral Studies at Christopher Newport University in Virginia, and has appeared as a guest conductor with the Toledo Symphony Orchestra, the Jacksonville Symphony Orchestra in Florida, and the Quad Cities Symphony Orchestra. He lives Toledo's Old Orchard neighborhood.