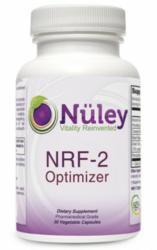 Just One Pill of Nuley Contains The Equivalent Amount of Sulforaphane as 15 Pounds Of Broccoli
Denver, Colorado (PRWEB) July 12, 2012
Following the success of first generation NRF2 activation products, Nuley NRF2 Optimizer has joined the field of NRF2 activators. NRF2 activators reportedly harness your own body's genetic transcripts to fight oxidative stress, support detoxification, and reduce inflammation. As a result, experts suggest users may have more energy, improved disease resistance, and improved aging.
Similar to its forerunners, Nuley works by activating these NRF2 pathways to support antioxidation, however Nuley also contains a few important additions to improve its effectiveness, such as John's Hopkins sulforaphane, BioPerine®, curcumin, pterostilbene, turmeric, and green tea extract. Nuley's key ingredients are backed by many clinical trials and are currently being used at several cancer treatment and prevention centers today. Nuley is safe, easy to use, and all natural.
While everyone can enjoy the benefits of Nuley, Nuley is primarily geared towards middle-aged consumers who are looking to develop a healthier lifestyle, have more energy and vitality, and resist the negative effects of aging and stress in their lives.
Nuley NRF2 Optimizer is currently available for sale online at http://www.nuley.com and will be made available in natural health stores nationwide around fall of 2012.
ABOUT NULEY
Based in Denver, Colorado, Nuley was created by many of the leading NRF2 researchers in the industry. The people at Nuley are experienced dietary health and nutritional supplement professionals, who are focused on improving health through their products.