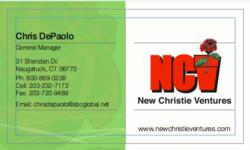 This is the first business card that actually helps us get new business.
Greensboro, NC (PRWEB) July 13, 2012
HIP Labels, LLC, a leader in product identification for the Horticultural industry was looking for a creative business card that would let customers know about the broad range of products that they carried. They turned to Wall Printing that owns the site, Creative Business Cards, for a solution that not only met their requirements but stood out from other business cards.
Creative Business Cards makes an origami style card that is the size of a regular business card but has four panels that make a never ending fold. "One of the advantages of this business card" says Bob Lovejoy, president of HIP, "is that people won't forget the card or your company. We have landed over $50,000 in new business directly related to this card. Some of our clients liked the cards so much they asked us to create cards for them."
The business card has a patent pending design that is unlike anything else in the market. Four panels allow room to create a marketing message on the business card and a QR code can be printed on the card which links to the web for more information.
There are over 10 billion business cards printed every year, which makes it the largest single marketing piece. Yet most business cards do not stand out or help companies develop business. To help companies make their business cards more effective, Creative Business Cards has put tips on their website that will help companies get the most out of their business cards. Even if you use a regular business card, there are things that you can do to make it more effective.
About HIP: HIP Labels, LLC was organized in Greensboro North Carolina after identifying a need for high quality tags and labels coupled with exceptional customer service. HIP Label's growth is based on providing customized quality products, innovative packaging solutions, on-time delivery and competitive pricing.
About Wall Printing Company: The Creative Business Cards website was recently set up to service customers who wanted to use their business card as a powerful marketing tool. Wall Printing in partnership with Memory Cross Inc. has created origami style cards for a number of clients. This website was the result of requests by customers who wanted to use this patent pending design for their business cards. Wall Printing has been producing innovative packaging, tags and labels for over 25 years and is located in Jamestown North Carolina.