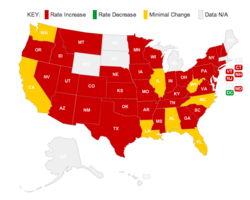 Average rates for new 12-month homeowners insurance policies climbed to $853 during Q1 2012.
Wilmington, N.C. (PRWEB) July 12, 2012
First quarter numbers for the 2012 HomeInsurance.com RateReport are in, and they show that customers are paying increased rates for new 12-month homeowners insurance policies. The RateReport data represents approximately 15,000 policies sold through HomeInsurance.com across the country from top carriers like Travelers, The Hartford, Safeco Insurance and ASI/Ark Royal.
The first quarter of 2012—January to March--saw nationwide average insurance rates climb 5.3 percent to $853. This time last year, average rates were $727.82. That's a year-to-year increase of 17 percent. Though the first quarter increases did slow after the holidays, a higher jump from February to March seems to indicate more dramatic hikes could be on the way. The second quarter recently wrapped.
Some states saw significantly larger home insurance rate increases, particularly New Jersey at 13.7 percent, Tennessee and Nebraska, both over 5 percent, and Arkansas and Vermont, close behind with 4.5 and 4.4 percent increases respectively. The largest rate decrease? District of Columbia at just 1.0 percent.
"Insurance rates change often, due to a number of different factors," Carlos Lagomarsino, founder of HomeInsurance.com, said. "Homeowners can do two things to help secure low rates, and maybe save some money: comparison shop quotes from multiple carriers; and take advantage of additional discounts they may be eligible for, like home-auto packages."
About the HomeInsurance.com RateReport
The RateReport is a quarterly report released by HomeInsurance.com. It shows average insurance rates paid by HomeInsurance.com customers across the U.S. for both home and auto insurance. For more information on rate trends, or to view rates by state, visit http://HomeInsurance.com and view the RateReport. For auto insurance information, view the Auto RateReport, also found at HomeInsurance.com.
About HomeInsurance.com LLC
A pioneer in online comparative insurance shopping, HomeInsurance.com, LLC operates multiple home and auto insurance marketplaces, and is rated A+ by the Better Business Bureau. HomeInsurance.com partners with top-rated home and auto insurance companies and provides customers with free quotes, for a fast and efficient shopping experience. Partners include Travelers, Safeco, The Hartford, Liberty Mutual, ASI/Ark Royal, Foremost and Progressive.