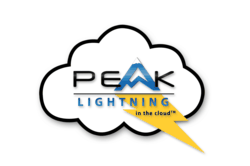 It's unbelievable the horsepower companies can leverage now with Dell's 512 GB, 64 core solutions. This level of processing has never been available in our industry before at these prices
Milpitas, CA (PRWEB) July 12, 2012
Peak Hosting, the industry's most trusted leader in Operations-as-a-Service, managed hosting services and hybrid cloud computing, today talked about Peak Lightning in the Cloud℠, Peak's definitive solution to scaling large memory and compute requirements in the cloud, and now available at the remarkable price of $1,999 per month, a significant savings compared to average market rates.
Peak's partnership with Dell delivers their R815 dedicated server with 512 GB of RAM, sixty-four (64) 2.3 GHz cores and blazes new terrain for lightning fast performance, while saving customers on cost, complexity, fewer points of failure, cost, and cloud network and virtualization latency. Peak Lightning in the Cloud℠ provides state-of-the art performance at entry-level pricing, while delivering about 8X the memory and 10X the compute power.
"It's unbelievable the horsepower companies can leverage now with Dell's 512 GB, 64 core solutions. This level of processing has never been available in our industry before at these prices." Mr. Papen further reiterated "Peak's Lightning offering gives customers in the no-SQL, big data, or any memory or CPU intensive application the tools they need to be successful at price points unprecedented in the cloud industry."
To get technical details on Peak Lightning in the Cloud℠, click here. To get pricing, performance benchmarks or to schedule an appointment with one of our Solutions' Architects call 888-476-7325, option #3 today.
About Peak Hosting:
Founded in 2001, Peak Hosting builds the world's largest Internet properties across every technology vertical. With the ethos of, "What's the most we can do?" Peak engineers, who average over 15 years of industry experience, have designed, built and scaled the largest and most well-known Internet giants.
"Peak Hosting's AlwaysUp Architecture℠ ensures component failure doesn't lead to service failure, enabling us to deliver an industry exclusive 100% AlwaysUp SLA℠ without exceptions or excuses for maintenance windows. As part of our Operations-as-a-Service solution, Peak Total Operations℠ (PTO) delivers the expertise in "everything but your code" to manage every aspect of infrastructure operations so companies can focus on what they do best.