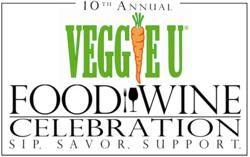 Join us Saturday, July 21st for the 10th Annual Veggie U Food and Wine Celebration!
Milan, OH (PRWEB) July 12, 2012
The final details are in place for the 10th Annual Veggie U Food and Wine Celebration, at The Culinary Vegetable Institute, on July 21st, 2012.
This annual fundraiser benefits Veggie U, a non-profit children's education program that teaches the importance of nutrition and sustainable agriculture by providing interactive lesson plans with a classroom garden kit to elementary schools and special needs students. Over 2600 Veggie U kits have been placed in 29 states, with over 400 kits scheduled for classrooms this fall.
The celebrity chefs stationed in the VIP tent, Chefs Lee Anne Wong, Greg Grossman and Jonathon Sawyer, have been challenged to create all vegetarian fare. In addition, over 30 chefs have volunteered their time and skills to man tasting stations and create Flavors of the World culinary masterpieces in support of Veggie U. The Grand Tasting Tent includes:

Chef Richard Arnoldi, Ritz Carlton Cleveland, will create a Peruvian dish.
Chef Demetrios Atheneos, recently of Deagan's in Cleveland, will focus on French cuisine.
Chef Jorge Catala, Wyndham Grand Rio Mar, Puerto Rico, is creating a Cuban inspired dish.
Chef Paula DeSilva, 1500 Degrees at Eden Roc, Miami Beach, is making a Southern creation.
Chef Tony Dee, Eddie Merlot's, Indianapolis, is working up an amazing Californian dish.
Chef Craig Deihl, Cypress Grill, Charleston, will whip up a Korean delicacy.
Chef Steven Halliday, The Greenbrier Hotel, White Sulphur Springs, WV, will make a Spanish dish.
Chefs Kevin Hickey and Jason White, Four Seasons Chicago, will team up to create an Argentinian inspired plate.
Chef Zane Holmquist, Stein Eriksen Lodge, Park City,Utah, has chosen to focus on Norwegian/Swedish cuisine.
Chef Chris Johnson, of Cleveland's Driftwood Group restaurants (87 West, Washington Place Bistro, Welshfield Inn) is flexing his talents with German/Italian Fusion cuisine.
Chef Todd Kelly, Orchids at Hilton Cincinnati, will create a Great Lakes specialty.
Chef Eric Leibtag, Blackstone Renaissance Chicago, is whipping up a Spanish creation.
Chef Brian Piasecki, California Grill at Walt Disney World, will treat the crowd to Californian.
Chef Marty Pollack, The Battle House, Mobile, AL, will create a Creole specialty.
Chef Gilberto Ramirez, Primo at JW Grande Lakes Marriott, Orlando, will create Italian fare.
Chef Todd Richards, Ritz Carlton Buckhead, Atlanta, GA, will focus on Ethiopian cuisine.
Chef Jonathon Sawyer, The Greenhouse Tavern, Cleveland, is creating a Great Lakes inspiration.
Chef Kenny Sloane, Fin Seafood, Newport News, VA, is working on Italian fare.
Chef Jaco Smith, Ritz Carlton St. Louis, is inspired by Indian cuisine.
Chef Rachael Spieth, Georgetown, Lakewood, OH, will make a German dish.
Chefs Jordi Valles and Richard Gras, St. Regis, Bal Harbour, FL, will team up to create a Spanish dish.
Chef Peter Veach, Union Catering at Pierpont, Ann Arbor, MI, will make Lebanese fare.
Chef Erica Wides, Institute of Culinary Education, New York, NY, has chosen a Vietnamese inspiration.
Chefs Chris Windus and Angel Luis Resto, Swan Dolphin Resort, Blue Zoo at Epcot, is making Southern cuisine.
Chef Don Yamauchi, Motor City Casino, Detroit, has chosen a French inspiration.
Over in the Demonstration Tent, Demo: Impossible with Robert Irvine, Amanda Freitag and Madison Cowan! Chef Amanda and Chef Madison will each pick one or two teammates from the audience to produce a dish using surprise ingredients. Chef Robert will emcee the cooking portion and may throw a few curveballs at the contestants. In the end, Chef Robert, Farmer Lee Jones of The Chef's Garden and one guest judge will select the best dish. Other cooking demonstrations, wine tastings and classes, an expert vegetable carver, live and silent auctions, and more attractions will keep the event lively.
Gourmet food trucks will also be on hand, an exciting trend happening around the country. Top chefs put their award winning restaurant menus "on the road" in city streets, parks and at catered events. Chef Rocco Whalen, restaurateur and executive chef at Fahrenheit in Cleveland's Tremont neighborhood, who was also recently showcased on Food Network's Fat Chef series, will bring his "Short Rib 1" Fahrenheit Truck to the Food and Wine event. Gourmet food-truck operator Chef Chris Hodgson, who achieved nationwide recognition finishing second on Food Network's The Great Food Truck Race l brings his famous "Hodge Podge" truck which was showcased on the series. Hodgson recently opened Hodge's in downtown Cleveland with restaurateur Scott Kuhn.
Grand Tasting tickets for the Celebration are $150 each (please call for group ticket rates). VIP Party tickets are $300 each, and include preferred parking and early admittance, mingling with the celebrity chefs, private cuisine offerings, and exclusive silent and live auction items. To purchase tickets and learn more about the event, visit http://www.VeggieUFoodandWine.com or call 419.499.7500.
Saturday, July 21, Event Highlights:
4:00-5:30pm Mingle with Chefs, Celebrities at the VIP party
5:00-9:00pm The Grand Tasting Event will showcase more than 30 of the nation's top chefs serving up spectacular fare from the Taste of the World cuisines
6:00, 6:45, 8:00pm On-stage culinary entertainment with Celebrity Chefs Robert Irvine, Amanda Freitag, Madison Cowan, Johnny Iuzzini and Claire Robinson
5:30-6:15pm A wine class with Master Sommelier, Brett Davis, in the seating tent
5:00-8:00pm Silent auction & Chinese raffle
7:15pm LIVE auction emceed by entertainer, Billy Harris
###