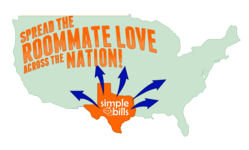 Over 20,000 students and parents in Texas have tursted SimpleBills to help split utility bills over the past 4 years.
Waco, TX (PRWEB) July 12, 2012
College students and their parents have long been plagued by tension around setting up utilities and managing payment of utility bills. Most college students receive their first exposure to utility bills after moving away from home. Most have never set up utility service or paid a utility bill. 87% of students living off campus have one or more roommates, and 55% receive two or more utility bills per month. In the past, roommates have been forced to deal with this situation by developing complicated systems to divide utility bills that often result in tension and one or more roommates feeling like a "house parent." With students' credit open to damage for late payments, late fees and an average of up to $1000 per year in bills, serious problems can result.
SimpleBills, based in Waco, Texas, has a solution that works. Over 20,000 students and parents in Texas have trusted SimpleBills to help split utility bills over the past 4 years. Effective immediately, SimpleBills has made its bill-splitting service available to students and parents nationwide. SimpleBills will send one bill per month to each roommate with all aggregate billing information for all utilities, for just each roommate's share. Each roommate pays SimpleBills, and SimpleBills pays the utility providers.
SimpleBills has the following benefits:
• Help with initial setting up of utility service, including easy to follow instructions, in some cases.
• Combining all utility bills into one, easy-to-read invoice that can be accessed online.
• Splitting the combined bill between all roommates.
• One payment per roommate per month, directly to SimpleBills instead of to each other.
• Payment of utility bills on time, every time.
• Educating students and parents on conserving utilities and saving money.
SimpleBills was founded by Kevin Jones and Colin Heller during their senior year at Baylor University in 2008. After living with roommates, they understood the problem all too well. Otherwise good friendships were stressed every month while dealing with shared utilities and payments between roommates.
"Any parent who has had children go off to college understands the problem our service solves," say co-founder Colin Heller. "Students have better things to do than hassle their roommates for utility money. It can cause an enormous amount of stress between roommates. That's why we use our tagline: Love your Roommates Again."
The idea was pitched to local property management companies and the service received immediate overwhelming feedback. Over 2,000 students signed up in the first semester of operation. From Kevin Jones, co-founder: "The response we received from parents and property managers that first semester was 'Wow, I can't believe no-one has thought of this idea before! I wish I had this service when I was in school.'"
Since then, SimpleBills has been receiving requests from around the country to help relieve tension between roommates. To learn more, please view the attached video or visit http://www.simplebills.com.
If you'd like more information about this topic, or to schedule an interview with Kevin Jones or Colin Heller, contact SimpleBills at (254)230-0199 or info(at)simplebills(dot)com