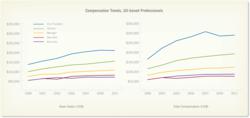 While many life sciences companies have downsized, the results of this study show that regulatory professionals are more indispensable than ever
Rockville, MD (PRWEB) July 24, 2012
The Regulatory Affairs Professionals Society (RAPS) today released the results of its 2012 Scope of Practice & Compensation Report for the Regulatory Profession, finding that regulatory professionals are highly valued by companies in the life sciences and healthcare products sector. Regulatory professionals perform varied, vital work and are being rewarded with increased compensation.
"While many life sciences companies have downsized, the results of this study show that regulatory professionals are more indispensable than ever" said RAPS Executive Director Sherry Keramidas, PhD, FASAE, CAE. "They play key roles in all aspects of bringing medical innovations to market, and uniquely combine strong expertise in medical science, regulation, business and strategy. The fact that compensation continues to rise shows employers recognize their value."
Regulatory professionals' base salary and total compensation grew in the US, Canada and some European countries despite a tough global economy and workforce cutbacks in areas such as pharmaceuticals. In North America, base salaries increased by 4%, and total compensation grew by an average of 3%. Over the past decade, total compensation grew by 29%.
Regulatory experience is a key factor in compensation, according to the data, but the overwhelming majority (96%) of regulatory professionals began their careers in another, related field, such as research and development (28%), quality (21%) or laboratory sciences (8%). On average, they have eight years of prior professional experience before moving into regulatory. Ninety percent hold a university degree in the sciences, a clinical discipline or engineering.
Another important factor in compensation is holding the Regulatory Affairs Certification (RAC) credential, the only accredited, post-academic, professional credential for regulatory. RAC holders in the US, on average, earn 10% more than their counterparts without the credential. RAPS has created a salary calculator based on survey data, available online at http://www.RAPS.org/salary, which allows individuals to input factors such as RAC status, education and experience to get an average salary for regulatory professionals with similar backgrounds.
The work of regulatory professionals has evolved over the past decades and has shifted from an emphasis on compliance to a more varied scope of practice that includes involvement in the full product lifecycle from product development through submission, manufacturing and postapproval, including business and regulatory strategy. The work of regulatory professionals continues to be global and includes multiple product types, including pharmaceuticals, medical devices, biotechnology products and others.
The report is based on survey responses from 2,750 regulatory professionals in 58 countries.
For more information, download a PDF copy of the full report or go to http://www.raps.org/2012-scope-of-practice-compensation-report.aspx.
About RAPS
The Regulatory Affairs Professionals Society (RAPS) is the largest global organization of and for those involved with the regulation of healthcare and related products, including medical devices, pharmaceuticals, biologics and nutritional products. Founded in 1976, RAPS helped establish the regulatory profession and continues to actively support the professional and lead the profession as a neutral, non-lobbying nonprofit organization. RAPS offers education and training, professional standards, publications, research, knowledge sharing, networking, career development opportunities and other valuable resources, including Regulatory Affairs Certification (RAC), the only post-academic professional credential to recognize regulatory excellence. RAPS is headquartered in suburban Washington, DC, with offices in Europe and Asia, and chapters and affiliates worldwide. RAPS.org
###