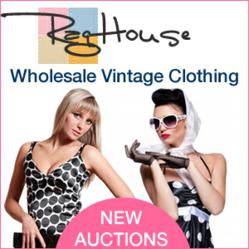 Offering our customers the ability to buy used modern and vintage clothing via traditional methods and via auctions is a first in the industry
Phoenix, AZ (PRWEB) July 16, 2012
Raghouse.com, a Tiedemann Globe company announced today the launching of their new vintage clothing website. Raghouse.com has long been an industry leader in bulk vintage and used modern clothing. A major improvement over the previous site, customers will now be able to purchase lots traditionally or by biding on them using the new auction feature.
"Offering our customers the ability to buy used modern and vintage clothing via traditional methods and via auctions is a first in the industry" boasts Ty Fishkind, Director of Vintage Sales. Raghouse.com is expecting the auction feature to revolutionize how boutique used clothing stores are able to get the best clothing at the lowest prices to better serve their customers.
Selecting quality vintage pieces from the over 120,000 lbs. of used clothing received every day, coupled with 19 years' experience, makes raghouse.com a true industry veteran. According to Amy Tiedemann, President, "Being an industry leader doesn't mean you sit still. At raghouse.com and at the entire Tiedemann globe family of companies, we are constantly striving to do things better, more efficiently with sustainability, environmental awareness and customer satisfaction at the core of every decision."
With Raghouse's consistent quality supply, management believes that the new site will reach more customers, offer multiple purchasing methods, and grant them the ability to ship products more quickly.
About Tiedemann Globe
Headquartered in Phoenix Arizona, Tiedemann Globe's Raghouse.com is one of the nation's leading distributors of vintage and used modern clothing. Tiedemann Globe employs over 250 employees spanning three locations in the US. Setting standards in recycling and energy efficiency that are unprecedented in almost any industry, Tiedemann has been Green before Green was cool. Besides recycling and exporting used clothing overseas, Tiedemann Globe uses propane-powered forklifts and trucks, two natural gas vehicles, recycled cardboard, metal and aluminum. With each decision they make, their aim is to reduce the carbon footprint, focus on the common good, with social concern about climate change and other sustainability issues at the forefront. For more information contact on vintage clothing visit http://www.raghouse.com