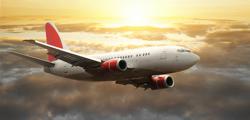 (PRWEB) July 12, 2012
Travel website InsanelyCheapFlights.com has put together a bucket list of must-see places from all over the world. Rather than simply provide the list, the site has also gone a step further and by announcing discounts on flights to these destinations. Anyone wanting to see what the world has to offer before they leave it will want to check out this list.
1. Iguazu Falls, Argentina/Brazil – Part of the natural border between Argentina and Brazil, the falls of the Igauzu River are part of national parks in both countries. The falls are actually made up of hundreds of waterfalls of different size, the largest of which is called The Devil's Throat and towers almost 270 feet high.
2. Great Barrier Reef, Australia – The world's largest coral reef system, the Great Barrier Reef is one of the seven wonders of the natural world.
3. Grand Canyon, Arizona – Carved by the Colorado River, the Grand Canyon attracts millions of visitors every year. Catch a flight to Flagstaff, then head north to check out the canyon.
4. Cliffs of Moher, Ireland – Located on the western coast of Ireland, the cliffs reach nearly 400 feet above the Atlantic Ocean. Fly into Shannon Airport and check out beautiful County Clare on the way to the cliffs.
5. Venice, Italy – Built on top of the Venetian Lagoon, this floating city is a World Heritage site. Venice Marco Polo Airport is just a few miles away on the mainland.
6. Great Wall of China – Some estimates place the entire length of the wall at more than 13,000 miles. Many notable sections are located in and around Beijing.
7. Taj Mahal, India – Fly to Agra, India, then hop on a rickshaw to get to this architectural wonder built by an emperor for his wife in the 17th century.
8. Santorini, Greece – With its famous white-washed houses, this Greek island is accessible by air with daily flights from Athens.
9. Uluru, Australia – Also known a Ayer's Rock, this large sandstone formation in central Australia is accessible by flying to Ayer's Rock Airport.
10. Amalfi Coast, Italy – Fly into Naples and book a tour bus to Positano on the Amalfi Coast.
To save on trips to these destinations, travelers using InsanelyCheapFlights.com can enter the code "ICF20" in the appropriate box on the booking page when purchasing their flights. The discount applies to service fees and is valid on flight bookings only.