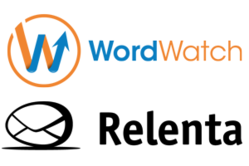 San Jose, California (PRWEB) July 12, 2012
Earlier this week, AdWords management startup, WordWatch, finalized their partnership with Relenta, an affordable email-based CRM for users looking to get more work done with a single program. Founded in 2004, Relenta was the result of founder Dmitri Eroshenko's desire to simply manage his daily tasks, no matter where he was in the world. It features a centralized, shared workspace for everyone on a team, making it easy for each member to know what they need to do next, and who is responsible for what actions.
"I'm excited for our customers to be introduced to Relenta because they value their time very much," Trace Ronning, media coordinator and partnership manager at WordWatch said. "That's one of the reasons they use WordWatch, to save time managing AdWords, and with Relenta, they can cut down the time they spend searching their 'to-do' list for upcoming tasks in half, as well."
The partnership pairs two pieces of the Internet marketing puzzle together, in an effort to help individual customers of each product create more effective marketing campaigns.
"Generating PPC clicks and building customer relationships from AdWords leads are all about productivity and efficiency. WordWatch customers generate the best traffic from Google AdWords click with minimal investment. Relenta helps them build and manage customer relationships with minimal effort. As a result, WordWatch and Relenta customers get things get done instead of letting them fall through the cracks. Everybody wins," Eroshenko said.
About WordWatch:
Founded in 2009, WordWatch is an online AdWords bid management application designed for small business advertisers, marketing consultants and freelancers, and small agencies. The application simplifies the daily management of keyword bids and constantly optimizes a customer's AdWords account. WordWatch has offices in San Jose, Amsterdam and Krakow.
Related Links
http://www.wordwatch.com
http://www.relenta.com