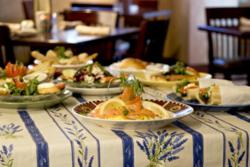 Milwaukee, WI (PRWEB) July 12, 2012
Chez Jacques celebrates eleven years in business, a grand opening of the Wine Garden (back patio) and honors Bastille Day with a four-day event, July 12th - 15th, coinciding with Bastille Days in France and Milwaukee.
Chez Jacques will feature a special Happy Hour on Thursday and Friday (July 12th and 13th) from 2pm - 6pm with $5 Bloody Marys, Mimosas, Red or White or Rose wine and Appetizers. Also featured will be the Tremblement de Terre (the earth quake), a special cocktail created by Toulouse-Lautrec made with half Absinthe and Cognac.
To honor Bastille Days in Milwaukee, a special dish, Poulet Basquaise, featuring 1/2 roasted chicken topped with sauté tomatoes, peppers, garlic and country ham and served with bow-tie pasta will be featured. The rooster is to France what the eagle is to the United States, a patriotic symbol. Also during dinner for the four days will be featured a special summer dish of pan seared scallops with a pineapple, cucumber, jalapeno chutney and organic quinoa.
To make either of these entrées complete we suggest the 2011 Domaine de Fontsainte Gris de Gris Corbieres. This tonic rose from the Languedoc gives off notes of raspberry, cherry and freshly picked strawberry followed by exotic aromas such as pineapple and mango to create a great summer wine.
For dessert we suggest the Crème Brulée made with vanilla extract, or Bread Pudding made with fresh croissants.
All in all, a very special four days of food, wine and French culture to celebrate Bastille Day, eleven years of serving authentic French cuisine in Milwaukee and the cozy and relaxing Wine Garden. "Voila, Bon Appetit et bonnes fetes de la Bastille" from Chez Jacques.
Make plans today to join the Bastille Day celebration. Chez Jacques, 1022 South 1st Street, Milwaukee, WI 53204, Phone: 414.672.1040, email: chezjacq(at)chezjacques(dot)com.
About
Jacques and his staff pride themselves on providing a satisfying meal for your eyes and stomach. You'll find Chez Jacques in the shadow of one of Milwaukee's most notable landmarks, the Allen Bradley Clock Tower in historic Walker's Point. With plenty of on-street parking, Chez Jacques is convenient to downtown and easily accessible from all parts of Milwaukee.