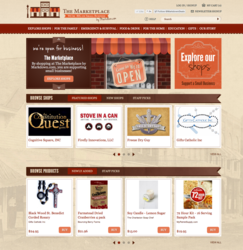 When you get Glenn Beck pointing at the screen saying "I love that…", I think we're onto something. I'm very appreciative of you and your team for their tireless work, the knowledge to get things done, and for just 'getting it'."

-Keith Ferry
Denver, Colorado (PRWEB) July 19, 2012
Last month, Indaba Group had a starring role in the launch of The Marketplace by Markdown.com, playing detectives, designers and developers in the creation of the Magento-driven site. The new Markdown.com is the second phase of the original Markdown site, and aims to showcase small businesses across the country to a whole new audience, complete with curated shops and staff picks. Handpicked by Glenn Beck and the Marketplace team, the featured small businesses represent true American values, and offer customers high-quality products they simply can't get anywhere else. The Marketplace aims to bring Main Street directly into customer's living rooms, back to a time when you could chat up the owner, and a handshake sealed the deal.
The previous Markdown.com site could no longer accommodate the online marketplace that the client had in mind, and a new approach was crafted. Indaba kicked off the project with an extensive discovery process that left no rock unturned, including:

Investigating the needs and wants of Markdown team members for the new site,
creating a new information architecture and flow,
constructing detailed wireframes,
and numerous technical discussions.
Armed with the necessary tools, the Indaba team was ready to put some paint on the framework.
The challenge for creative was to create a nostalgic, Main Street feel, without being too outdated or cliche. The new logo and the design of the site use subtle imagery and graphics, as well as a nostalgic color palette to evoke that feeling in the customer - the feeling of doing business with trusted local merchants who value quality and customer service. The stories of the shops are just as important as the products they sell, and can be found sprinkled throughout the site.
The development team had a bigger challenge, one that involved integrating third party product content into a highly customized Magento back-end. Indaba created several customized modules within Magento for this site, including:

Integrated Magento with a marketplace management system allowing multiple vendors to manage products, orders and fulfillment
integrated a vendor-based module that allows shop owners to have their own personalized section within the site, complete with multiple pages for products, imagery and their stories
integrated a cluster environment configuration to handle large spikes in traffic, along with image and file management from the admin
customized per product dynamic shipping rules.
Visit Markdown.com to shop for yourself from small businesses and support your local communities today.
Indaba Group is an award-winning Magento partner, providing customers with complete ecommerce solutions, including discovery, design and custom website development. Leveraging their industry leading team of professionals that specialize in all facets of running a ecommerce business, Indaba offers In-Commerce - a complete solution to selling products online. Offices are located in Denver, Colorado, with a sister office in Lymington, England.