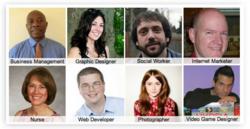 Interviewed experts have taken the time to bridge the gap between obtaining a degree and entering the work force
Kirkland, WA (PRWEB) July 12, 2012
Guide to Online Schools is proud and excited to announce the launch of its latest feature, The Career Guidance Center. The new segment offers job advice from career professionals who boast years of experience in their respective occupations. Each interviewee gives readers a real life account of what it is like to work in his or her field, helping to guide students and professionals to the right career.
Guide to Online School's aim is to make the process of choosing a career as easy and straightforward as possible. Instead of focusing solely on job statistics, the Career Guidance Center challenges its readers to ask the questions, "What do you want to do and why?" Interested in nursing? Find out what the benefits and downsides of a nursing career are by reading a first-person account from a practicing LPN. Guide to Online Schools offers the tools to dig deep into the lives of career professionals and get the answers prospective students need to make informed choices.
Starting a new career can be both exciting and daunting. Therefore, the interviewed experts have taken the time to bridge the gap between obtaining a degree and entering the work force. Read advice on not only what classes students should take in college to get where they want to be, but also what personality traits might hinder success in a given field. Further, the Career Guidance Center experts offer tips on interviewing, as well as how to move-up in a chosen profession once you have your foot in the door.
All of the interviews are titled "How to Become" because each interview seeks to give practical advice on how one can enter into a new career field. For instance, Stanford math professor Keith Devlin discusses how one would become a mathematician. He assures readers that you don't need to be a genius or a prodigy to be a mathematician, but rather "if you are fairly intelligent, all it requires is interest and the willingness to devote time and effort to learn and master, just like any other human pursuit."
The Career Guidance Center is growing every day. Guide to Online Schools offers over 4,406 degree programs and provides people as much information as possible to help with their educational decisions. Not everyone knows what degree to sign up for right away, but by providing a breadth of information, Guide to Online Schools hopes to make the decision process easier so students can feel confident in their chosen path.
About Guide to Online Schools
Guide to Online Schools is the flagship site of SR Education Group. The company was founded in 2004 with the mission of building the most authoritative and comprehensive career and online education-related websites. Guide to Online Schools attempts to find students the right degree at the right school to add the right value to their lives.