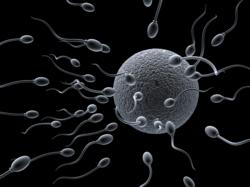 The reality is that males contribute to 50% of the pregnancy's success.
Beverly Hills, CA (PRWEB) July 12, 2012
Why does no one talk about male fertility issues? Things like a low sperm count, abnormal sperm morphology, and sperm mortility are just a few of the silent fertility issues that are caused by men.
Many think that women hold all the responsibility for getting pregnant. After all, she is carrying the child. However, the reality is that males contribute greatly to the pregnancy's success. If the sperm is weak or defective, no matter how fertile a woman is, she will not get pregnant. Optimal male fertility health depends on sperm quantity, quality, and movement.
Did you know that 20-30% of infertility issues and miscarriages can be related to low quality sperm? Quality of sperm depends upon age, diet, and overall health. For instance, obesity affects sperm quality in a negative manner, reducing sperm count and movement. Age also affects male fertility. Semen count starts to decline in one's twenties.
Longevity Herbs is now offering two new supplements intended to boost male fertility issues. The first is Adaptogen blend, a formula which may increase the quantity of sperm in addition to other benefits such as decreasing stress, anxiety, and fatigue.
Longevity Herbs also now offers a Men's Daily Omega-Complete Plus Zinc formula. This provides men with folate, zinc, and other vital essential nutrients, increasing their health and strengthening their fertility.
For more information on Longevity Herbs or products to enhance male fertility, please contact: http://www.LongevityHerbs.com or phone (888) 245-0718.